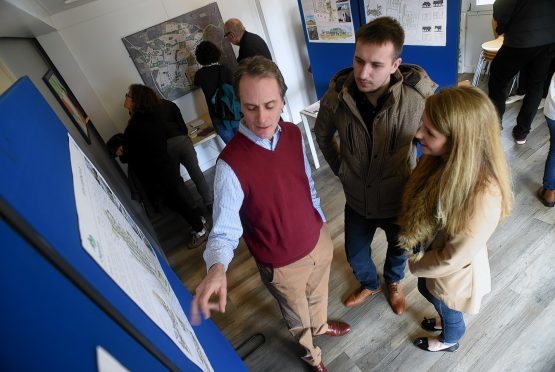 Hundreds of people showed up to view a vision of the future for a burgeoning £2billion north-east town at the weekend.
And yesterday the man behind the scheme, the Duke of Fife, said he was confident Chapelton of Elsick would be a success despite a "more difficult" local housing market.
He added that plans for a bar and lounge in the heart of the North Kincardine community – dubbed Scotland's newest town – were proving popular with residents.
People from Chapelton, Newtonhill and further afield turned up to the consultation event in the town's community cabin on Saturday.
Locals were given the opportunity to comment on the latest plans for the site, as well as future blueprints for the expansion of the community.
A total of 4,045 houses have been given approval at the site, however Elsick Development Company hope to eventually create 8,000 new homes there.
Speaking last night, the Duke of Fife said: "We were pretty pleased, about 100 people came throughout the day, it was quite a steady trickle of people.
"A number of people in particular were interested in the bungalows. It is a thing people have expressed interest in. What were showing was a range of ideas.
"There is a lot of interest in the pub. Originally we weren't planning to do it quite so soon but the tea shop shows people will travel to something that is good.
"It was interesting to see what people thought. There is definitely a move towards smaller houses that is why we have amended plans in the next phases.
"It shows despite a more difficult housing market things are still moving forward here, we are looking forward to the next phases."
Around 70 residents have already moved into the town and, last year, the second phase of construction of some 100 homes got under way.
The most recent planning application, submitted early this month, is for 37 homes and a green space.