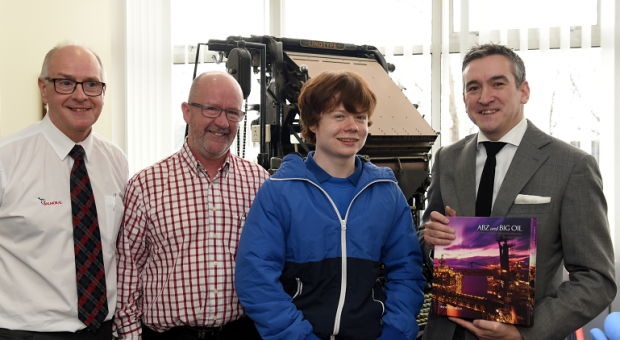 A pupil from an Aberdeenshire school which provides specialist care to children with autism, yesterday delivered a limited edition book to the Press and Journal, celebrating 50 years of North Sea oil and gas activity.
17-year-old Aidan Macaulay from Lynn Moor School is Peterculter has been delivering the publication as part of his work experience placement with the Balmoral Group.
Having taken part in the scheme since December, all parties involved have been thrilled with the outcome of the placement which has allowed the teenager to improve a range of social skills.
Neil Cooper, lead educational practitioner at Lynn Moor School, said: "The Balmoral group have allowed us to deliver books around Aberdeen to lucky recipients and Aidan has been involved in that project for several months.
"It has been a fantastic opportunity for Aidan, who has thoroughly enjoyed the experience and it has given him a sense of purpose.
"The delivery involves a lot of social skills which is important, but the task is fairly simple for him to enjoy.
"Hopefully, this will now act as a pilot scheme for other bigger and better things in the future."
After the success of this project, both Lynn Moor and the social care charity, VSA (Voluntary Service Aberdeen), are keen to create similar schemes in the future.
Mr Cooper added: "The project has been extremely successful, and we are very grateful to have a company like the Balmoral Group who are high profile in Aberdeen, and have given us this opportunity.
Alan Reid from VSA, said: "The scheme couldn't have gone better and we have been delighted with the co-operation of the Balmoral Group and their efforts to help us."
The Balmoral Group's public relations manager, Steve Gibb, said: "The partnership with Lynn Moor was particularly satisfying.
"It offered a rare chance for young people, who don't often get the opportunity, to experience real-life work interaction."
The book, 'ABZ and Big Oil – 50 years of Black Gold in the Silver City' is now available to purchase.
All money received from the sale of the book will go directly to Friends of ANCHOR, Balmoral's in-house charity which supports the cancer and haematology unit at Aberdeen Royal Infirmary.