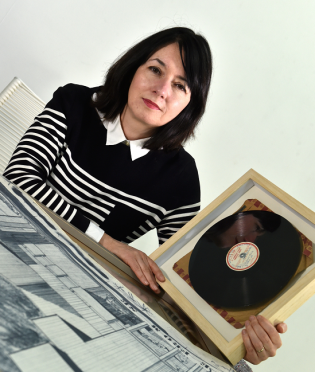 A north-east woman will raise awareness of the disease that robbed her father of his memory by hosting a touching exhibition.
Hilary Nicoll is launching a display of pictures at Woodend Barn in Banchory, based on her blog The Museum of Dad, which captured the change in her father Andrew as he battled dementia.
The 50-year-old first set up the blog to chart her father's journey through memory loss.
She said: "I set up the blog after becoming fascinated with this room that my Dad was spending a lot of time in, so I started taking photographs back in 2012.
"And as the room continued to gather objects, it became a little unusual and I was quite fascinated by it.
"I felt as if, when I went into the room, I was almost entering his mind and seeing him more clearly through the objects he had surrounded himself with.
"And as his Alzheimer's progressed I could see the room becoming a reflection of him."
The room was originally photographed in 2012 showing piles of objects, papers, artefacts and artworks which Mr Nicoll had surrounded himself with as the dementia took hold.
Mr Nicoll was an architect in London in the 1960s for some of the prominent companies of the time, and objects and memorabilia from those days will be on show in the exhibition, alongside photographs and writing from the blog.
Mr Nicoll was also a lover of jazz music which features prominently in the display.
Ms Nicoll said: "Doing this art work has helped me process this illness and I think people seeing the display will be able to connect with the story, and there is some humour in it – there are some funny anecdotes about aspects of his memories.
"This display is very personal to me and I've taken a leap showing people this.
"But I think there are universal things there which will resonate with people and it has helped me come to terms with my dad's illness."
Ashley Lawrie, from Woodend Barn said: "The subject of The Museum of Memory is very relatable for people who have had a loved one go through this disease.
"But it also has a positive spin of celebrating the memory of who he was at the time and [spells out] that the disease is only a part of who he is now."
The exhibition opens tomorrow and runs until June 8. The gallery at the barn is open from noon-4pm Tuesday to Saturday.