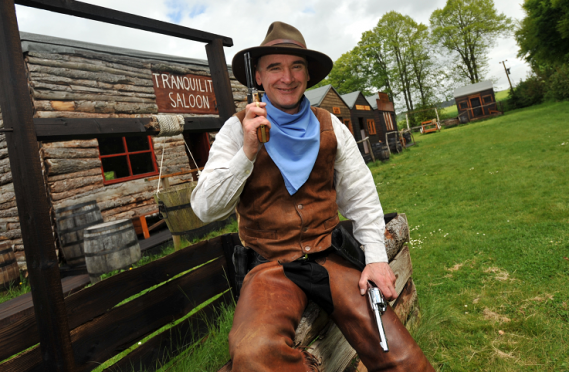 The north-east's very own Wild West town has come out all guns blazing after being praised by national critics for their amateur film competition entry.
Tranquility, outside Huntly was awarded an impressive three out of five stars for their 30-minute film, Trail to Tranquility.
The short movie, directed by Paul Vernon, was entered into the IAC British International Amateur film competition along with over 250 other entrants from all over the world.
Founding member of Tranquility, Alistair Baranowski, said: "Unbeknown to me, Paul entered the film into this festival and we got three out of five stars which was quite pleasing.
"I was really happy with the outcome, considering there were over 250 entrants and we had no budget for the film.
"Everyone did it voluntarily, so we're all really delighted with the outcome.
"It made it all worthwhile that people who aren't biased to Tranquility thought it was worth the three stars.
"It has also certainly encouraged us to pursue something in this field as long as we get guys like Paul who can help.
"We have at least two films lined up for this year which will be a follow on to Trouble in Tranquility so that's a definite.
"I think everyone at Tranquillity really enjoyed making the film. It's a lot of work, but everyone enjoys seeing themselves on screen."
Mr Vernon added: "The three stars was an excellent rating for us to get, and it was great to get our film out there to be seen by a whole variety of people.
"I love the Wild West, so it was great working with Tranquility, it took us two days of filming and a few days of preparation, but it was a great outcome."