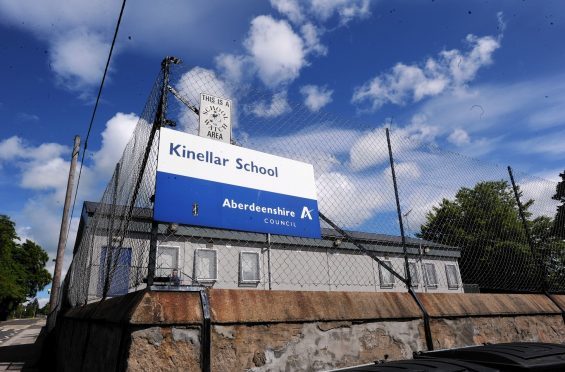 Plans for a £12million rebuild of a fire-hit Aberdeenshire primary school have been backed.
A fire broke out at Kinellar Primary in Blackburn on New Years Day, with the nursery and primary one classroom destroyed.
However a replacement school had been on the cards for years, and yesterday the Garioch area committee approved plans to push forward with the project.
Yesterday, the new school was described as a "plan B" after the council gave up its attempts to purchase a different site on the edge of Blackburn for it.
However the proposals were welcomed by local members.
East Garioch councillor and acting chairman of yesterday's committee, Martin Ford, said: "I am happy to approve and agree the recommendations. Clearly the council has had to look at plan B. We have to proceed
"One way or another we need that new Kinellar School as soon as possible. We must continue the dialogue with local community.
"This is not the first school by any manner or means where we have had difficulties acquiring the site. We have had to consider plan B and this is plan B. It is a more central site."
Westhill and district councillor, Ron McKail, said: "We need a new school in Kinellar, this will be excellent for the children, improving education."
Pupils will be transferred to Midmill School in Kintore – which is due to open in January – while the new school is built.
The building will be designed to hold 450 pupils, and the southern section of the Fintray Road site will be redeveloped into a multi-use games area, community play park and extra car parking.
The current playing fields on Fintray Road will continue to be used when the school is rebuilt.
The council's project manager for the new Kinellar Primary, Susan Cochrane, said: "The consultation with the community provided some surprising responses.
"We were expecting to have a very hard time, we thought they were expecting something like Kintore or Uryside, but actually we had a very positive response for maintaining the school in that part of the village. They (the parents) were extremely supportive."