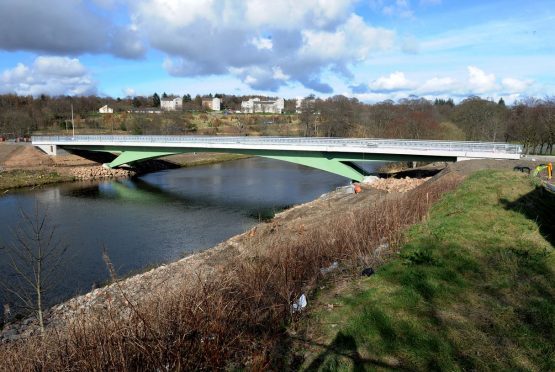 Children on either side of the long-awaited Third Don Crossing have backed a shiny new name for the bridge that honours the Granite City's royal connections.
Pupils at Riverbank Primary in Tillydrone and Danestone Primary in Bridge of Don were given nine options for the £22.3million crossing, ranging from Marischal Bridge to Gordon Bridge.
But it was Diamond Bridge that appealed to the youngsters, receiving 46.5% of the vote. St Machar's Bridge was the second choice, coming in 14.7%.
Today, members of the communities, housing and infrastructure committee will be urged to back the pupils' choice.
The name was put forward by planning chiefs to reflect the Queen's Diamond Jubilee in 2012.
The Royal Family has extensive connections with Aberdeen and the surrounding area including Balmoral Castle.
There is also a connection through HMS Diamond, a Royal Navy Type 45 destroyer which is twinned with Aberdeen.
The 8,500-tonne warship docked into the city in November to host community events and for Remembrance Sunday.
A total of 441 pupils participated in the ballot, 247 from Danestone and 194 from Riverbank.
Regeneration spokesman Ross Grant, who also serves as a Tillydrone councillor, said the committee was virtually guaranteed to back the name chosen by pupils today.
He said: "The name has been chosen by the local school population so we're bound to go with that.
"The other options had names to recognise elements of our local history. So it is good in terms of the exercise that the kids went through them and learned a bit about the history.
"It's good to see the kids getting involved in making decisions."
Bridge of Don councillor Willie Young added: "Given we are celebrating the Queen's 90th birthday I think the name is very appropriate."
The other options put forward were Gordon's Mills Bridge, New Grandholm Bridge, Gordon Bridge, St Machar's Bridge, Marischal Bridge, Third Don, Elphinstone Bridge and The Cruives Bridge.
The bridge is now around £3million above its original budget and running six months behind schedule after a series of delays.
It is due to open to traffic on Friday, June 17.