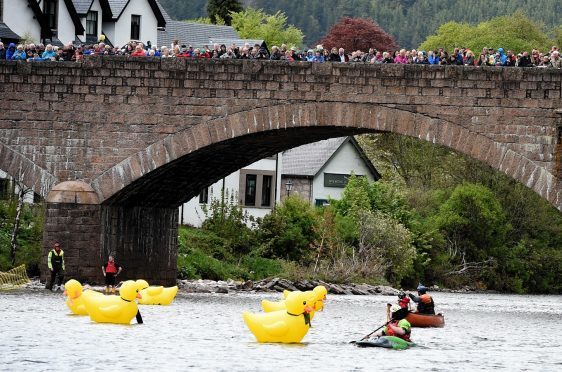 Residents of a flood struck Deeside town braved the rain this weekend to take part in its first ever duck race festival.
Crowds gathered in Ballater to celebrate the village coming back to life after Storm Frank battered the community.
Shops and homes in the royal town were left destroyed and damaged as a result of the heavy rainfall which blighted the country just after the New Year.
But yesterday spirits were high in Ballater as the residents opened its inaugural duck race festival.
Hosted by Ballater Royal Deeside Ltd the event was host to a whole variety of activities including stalls, featuring food and goods from local shops and activities for children, including a merry-go-round, horse rides and a bouncy castle.
The day came to an end with the highly anticipated inflatable duck race.
John Barrows, head organiser of the event, said he was thrilled with the turn out.
He said: "To see all these people here today after it being like a ghost town in January, this is just really what we wanted to see.
"This is the side of Ballater we want people to see and the side that we know and love, we're all so proud of this village and what it has come through this year and it's such a lovely environment for people to come and see it, seems a shame that people have had to stay away thus far."
The day was topped off with a duck race down the River Dee, with entrants receiving a silver quaich, sponsored by the Press and Journal, and a bottle of whisky.
Mr Barrows continued: "We have done a sponsorship programme for today of which the Press and Journal have helped us with and given us some great coverage for today's event – and it's been brilliant to have so many people behind us on this and we can't thank all those involved enough."
Local residents and groups were also thrilled to see the turnout of yesterday's event.
Neil Bannister, captain of the Ballater Golf Club, said: "It's great to see the amount of support that is being given today, to see this many people from all over coming to support us is fantastic, especially after such a difficult few months."
Local resident, Iain Munro, added: "To see so many shops get flooded was such a great shame so to see this many people turn out today despite the showers is very moving.
"After the success of today and the enjoyment everyone has had I'd definitely like to see this become an annual event, it's been great for local businesses today and a great boost for the community."