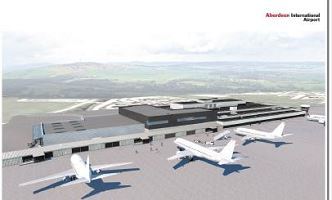 The first stage of a £20million transformation of Aberdeen Airport has begun.
Work has now started on the creation of a new luggage collection facility which marks the beginning of work on the multi-million pound extension to the existing building.
Once this is done the main passenger terminal will be doubled in size with two business lounges also being built on the top floor.
There will also be new security facilities, catering and retail units developed on the ground floor.
The airport currently employs 300 people and supports 3,400 jobs across the north-east and will now benefit from its biggest upgrade since opening its doors in 1977.
Funding for the project was announced by First Minister Nicola Sturgeon during a visit to Aberdeen earlier this year.
Speaking at the unveiling of plans she said: "Aberdeen Airport is hugely successful but I think people travelling through would be the first to say that an upgrade and a refurbishment is exactly what it needs.
"I've seen the plans in some detail and they are going to turn this airport into a modern, state-of-the-art facility."
John Deffenbaugh, who is in charge of the project, said luggage collection would be far smoother after the first stage was completed.
He said: "As we know from customer feedback, the current reclaim facilities are no longer fit for purpose.
"The new facilities will provide bigger reclaim belts and a faster, smoother process for our passengers to collect their luggage.
"We hope to have the work completed and the new reclaim areas ready for passengers to use by summer 2017."
While the first stage is underway passengers from domestic flights will have to collect luggage from a temporary facility outside the main terminal and bags from international flights will go to the fourth stand.
Mr Deffenbaugh added: "This temporary layout has been implemented to ensure minimal disruption to our passengers while we work on bringing them the new modern facilities."