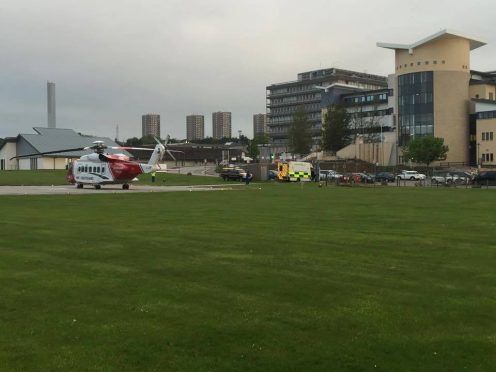 Coastguard officers have issued a stern warning after a man obstructed a hospital helipad while a chopper was trying to land with an ill-patient.
The incident took place in the early hours of yesterday morning at the landing pad in the grounds of Aberdeen Royal Infirmary.
A search and rescue helicopter was inbound to the hospital after airlifting a casualty suffering from chest pains from a passenger ferry north of Peterhead.
But as the chopper came into land a man ran onto the hospital's helipad to "get a better view" of the aircraft.
Officers from Aberdeen Coastguard Rescue Team later condemned the man's actions, which they said delayed the crew from getting the patient medical attention and endangered his life.
In a post on social media, Aberdeen Coastguard said: "As Rescue 951 was coming to land, a member of the public attempted to run on to the landing site to get a better view of the helicopter.
"The Aberdeen team managed to persuade the gentleman to leave the landing site so the chopper could land safely.
"Rescue 951 did land safely and the casualty was transferred into the care of the Scottish Ambulance Service without further incident.
"The team would like to take this opportunity to warn anyone that helicopters are dangerous machines and if one is landing in any environment- stay well clear.
"As well as the obvious dangers, you could be obstructing in an emergency which is a criminal offence.
"This morning highlights the importance of the teams presence in securing the landing site as the gentleman involved could have potentially been given a new haircut!"
The coastguard in Aberdeen were notified at 4:20am about the inbound casualty and asked to make sure the landing site was clear for the helicopter.
The police were not notified about the incident.