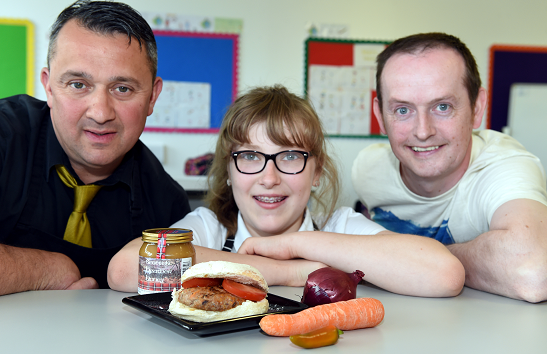 A north-east youngster enjoyed her first taste of success after making it into the semi-final of a national cooking competition.
Charlotte Jenkins, from Mearns Academy, has made it down to the final six pupils of a national competition, which challenged students to design a burger inspired by local produce.
The competition, hosted by Quality Meat Scotland, attracted almost 250 entries from over 20 schools across the country.
Yesterday local butcher Gavin Brymer paid a visit to the academy to make up Charlotte's burger, ready for judges to taste.
Her creation, named Busy Bees, was made up of pork and honey, and will now be available at Brymers butchers in Brechin.
Talking about her burger, the 12-year-old said: "I chose pork for the meat because you don't really see that many pork burgers, they're usually beef and then I included honey because there is a honey farm in St Cyrus which is quite local.
"It was really fun getting my burger made and it actually tasted really nice too, and I am excited to have my burger in a shop.
"I've really enjoyed the competition and so did my friends, it was a good experience."
Home economics teacher Lynne Howe said: "For the competition I asked all my S1 students for their homework to design a burger based on local produce or something inspired by the local area.
"After Charlotte designed her burger we submitted the entry and it has come back to us that Charlotte has made it through to the next round.
"So we then had a local butcher come into school and a local honey producer come in, as that is one of Charlottes main ingredients, and the burger was made up in school so everyone could try one of the Busy Bees burgers.
"Gavin will now send off a sample of Charlottes burger to be judged by Quality Meat Scotland.
"I am delighted that one of my pupils has made it this far, I could definitely have a budding chef on my hands.
"All the students really enjoyed the competition and it has been a great way to get pupils thinking about the produce on their door step.
"Competitions like this also get kids really involved in making food which is excellent, this is the first time we have taken part in the competition and I would definitely do it again."