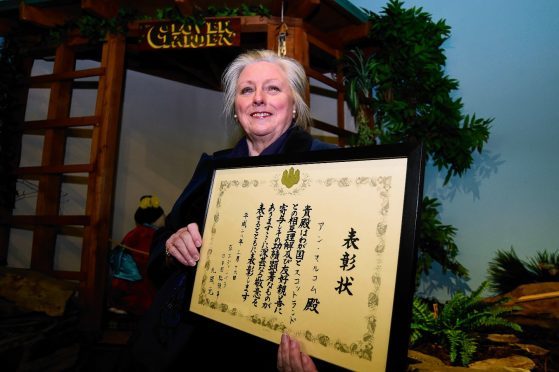 A north-east historian has received an international award in recognition of her work researching and promoting the life of Fraserburgh's most famous son – Thomas Blake Glover.
Mr Glover was a renowned Aberdeenshire industrialist who is credited with founding modern-day Japan and the Mitsubishi conglomerate in the late 19th century.
And Anne Malcolm, the founder and chairwoman of the Thomas Blake Glover Foundation, has now revealed she has been honoured for her work promoting links between Scotland and the Land of the Rising Sun.
Ms Malcolm received the Certificate of Commendation from the Japanese Consul General earlier this year and met up yesterday with other foundation members at the Fraserburgh Heritage Centre to mark the 178th anniversary of Mr Glover's birth.
She said: "It all started in 1992. I took an interest in Japan and discovered Glover's story. I've been trying to promote Fraserburgh locally, nationally and internationally.
"The Consul General kept apologising for being late at the presentation, but, in translation, he meant the award was belated. I never even knew it existed.
"When you work like this for 20 years you are not in it for the accolades. This is quite extraordinary and I feel very blessed these people saw something in me."
Presenting the certificate to Ms Malcolm, Consul General Hajime Kitaoka said: "You have made a distinguished contribution to the promotion of mutual understanding and friendship between Scotland and Japan.
"I would like to pay my utmost respect to you and give this award to celebrate your remarkable achievements."
Yesterday the Press and Journal revealed that the Aberdeen home of the "Scottish Samurai" could be transformed into a £2million business research and development centre by Aberdeen City Council.
The council plans to turn Glover House on Balgownie Road in Bridge of Don into an "ideas hub" which could help strengthen business links with Japan.
The 19th century villa was bought by Mitsubishi 20 years ago and gifted to the Grampian Regional Council before being converted into a museum. It closed to visitors in 2012 and has lain empty ever since.