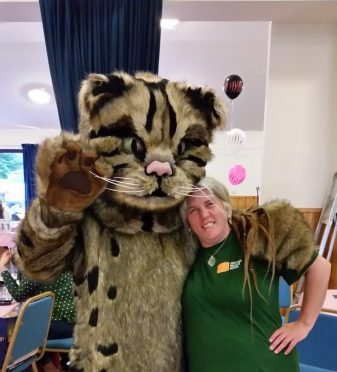 A popular Aberdeenshire fundraising event has drummed up more than £1,000 to help protect one of Scotland's most iconic animals.
The Highland Tiger Fling in Alford has been hailed a success, generating £1,200 for the conservation efforts of Scottish Wildcat Action.
The event was organised by local Maureen Laverman and took place at Tullynessle and Forbes Community Hall last weekend.
It included the auction of a number of items – including a baseball cap signed by Brian May of Queen fame – hosted by entertainer Patrice MacPherson.
Scottish Wildcat Action is a multi-partner project working across the country to save the endangered species – a number of which have been spotted in parts of Aberdeenshire.
Mrs Laverman said: "As a group of domestic cat owners and rescuers, we decided to raise public awareness of the plight of the wildcats in 2009.
"This is our fourth biennial event, and we've raised thousands of pounds over the years.
"Not only do the cats benefit from what we do, but we have also made lifelong friendships with people who would probably never have met otherwise."
Aboyne, Upper Deeside and Donside councillor, Katrina Farquhar -who is Aberdeenshire Council's wildcat species champion – added: "This was a fantastic local achievement, bringing people together to have some fun for a worthwhile cause.
"Scottish wildcats are a native species and need our help. It's local people in wildcat priority areas like Aberdeenshire who can make the biggest impact."