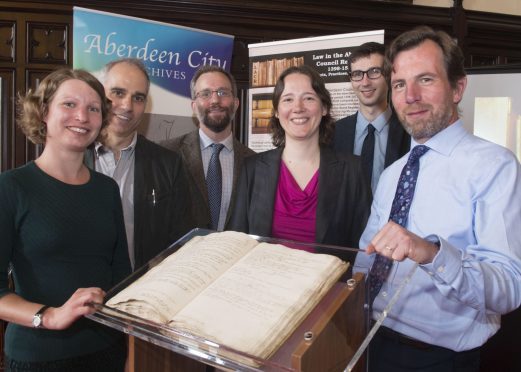 A three-year research project has been launched by Aberdeen and Aberdeenshire councils and Aberdeen University to begin transcribing thousands of medieval records for the public to view.
The city and shire's archives are among the most complete in the United Kingdom and provide a fascinating glimpse into the lives of Aberdonians in the Middle Ages.
In 2013, they were granted UNESCO heritage recognition for being of outstanding historical value.
And now, following a £310,000 grant from the Leverhulme Trust, archivists from the three institutions will begin transcribing the 5,239 pages from old Scots and Latin into modern English with the aim of making them available on the council websites.
The city has more surviving records for the period 1398-1511 than all other Scottish towns combined. And the new research will focus on legal practices in the city.
This will concentrate on how the law was applied, including details of who and when people used it and to what ends.
Dr Jackson Armstrong, from the university, will lead the project, which will be based in the University's Research Institute of Irish and Scottish Studies (RIISS).
Dr Armstrong said: "It is a great privilege to lead the team that will open up the text of Scotland's most important local records from the later middle ages.
"Our academic investigation aims to set a new direction for research with urban records."
To underpin this study, the project will produce a full electronically-structured transcription of the registers up to 1511, which Aberdeen City Council will ensure is made available online.
Aberdeen City Council Lord Provost George Adam welcomed the announcement which was made at the Town and County Hall.
He said: "There is an opportunity here to bring these incredible stories to a wider audience than ever."
Council archivist Phil Astley, added: "This is a tremendous opportunity for exciting new work with Aberdeen's important collections.
"It will enable new forms of access to these records, and open up new scope for local, national and international collaborations.
"We are pleased to be involved in this project which has such long-term potential to enhance Aberdeen's wider cultural offering".
The Leverhulme Trust, a registered charity, is a large national grant-making foundation established in 1925 under the will of William Lever, 1st Viscount Leverhulme.