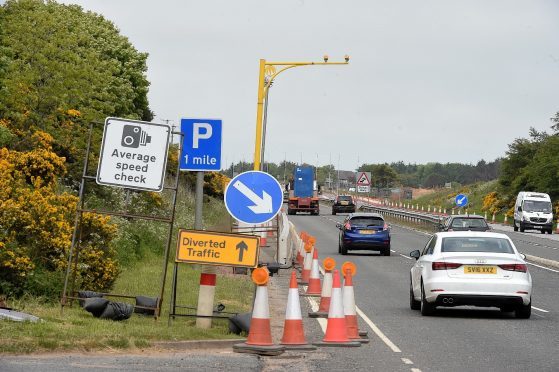 Average speed cameras along a stretch of one of the north-east's busiest roads are not operational – despite a series of new signs along the route.
The controversial "yellow vultures" were installed on the A90 Aberdeen-Ellon road to protect workers upgrading the carriageway as part of the AWPR project between Blackdog and Balmedie.
The installation was first announced in April and since then the cameras have been paired with notices claiming they are not operational.
But yesterday the signs were replaced with white "average speed check" signs – prompting motorists to think the speed traps had finally been turned on.
Hundreds of local residents took to social media sites to warn other drivers.
Nevertheless, a spokesman for Transport Scotland said the devices are not yet tracking drivers' speeds.
He said: "The cameras are still under test and will be operational in the coming weeks."
The decision to install the devices was made after a number of motorists were caught travelling nearly 100mph in the 50mph zone, just yards for construction crews.
Last night Aberdeenshire councillor Fergus Hood raised concerns about safety on the stretch of carriageway.
He said: "I think that the average speed cameras have been the right thing to do – there are a lot of workers on the go and traffic needs to slow down."
But the Garioch member, who raised the issue with police officers at yesterday's meeting of the Aberdeenshire policy and resources committee, said the cameras could only be effective if they are active.
"My experience is that people are just not obeying the speed limit. People need to slow down – the safety of these road workers is our priority."
He added: "I'm sticking rigidly to 50mph and people are blasting past."
Fellow councillor Jim Gifford, who represents the Balmedie and Potterton area, echoed his comments. He said: "There's not much point having them if they're not in use."
The average speed cameras are expected to stay in place until the AWPR works are completed and the reduced temporary speed limit is removed from Balmedie-Blackdog stretch of the A90.