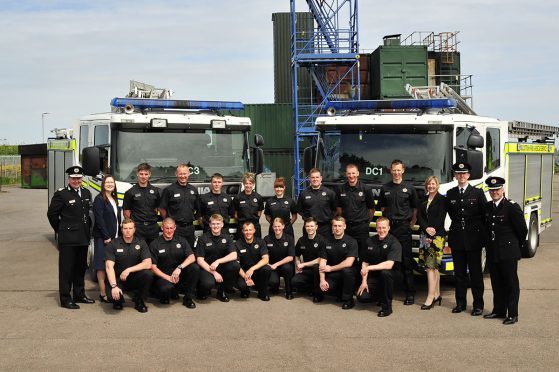 Sixteen north-east firefighters graduated into active service yesterday with a display of their new life-saving skills.
Friends, family and colleagues watched on as 13 men and three women became fully-fledged firefighters at a ceremony in Portlethen.
Before officially passing into the ranks at the Scottish Fire and Rescue Service's (SFRS) college, the group demonstrated how they would respond to a number of emergency situations.
A mock crash was staged, along with firefighting, search and rescue and ladder drills.
All the new recruits will kickstart their careers on the frontline in Aberdeen following their 14-week training scheme.
Chief officer, Alasdair Hay – who has been a firefighter for more than 30 years – said: "It's a tremendous pleasure to welcome these new firefighters to our service.
"These men and women are taking on a vital role protecting people across the north-east and they can look forward to a terrific career that puts them at the very heart of their communities.
"Today's firefighters do far more than just attend fires. They also save lives and help people following serious road traffic collisions, floods and a huge range of other incidents, as well as working to prevent emergencies from happening in the first place."
The Scottish Government's minister for community safety and legal affairs, Annabelle Ewing, welcomed the service's latest recruits.
She said: "I am delighted to see the SFRS reinforcing their presence in the north-east with this new intake of whole-time firefighters.
"Having one national service allows SFRS to target resources at communities that need them the most and these firefighters will play an absolutely vital role in protecting the people of Aberdeen.
"They will also help to prevent fires by sharing safety practices and engaging with local communities."
Deputy chairwoman of the fire and rescue service's board, Kirsty Darwent, added: "These recruits represent our commitment to the safety of the people of the north east.
"They will leave here ready and equipped for the task ahead and I wish them the very best as they join our crews protecting the public."