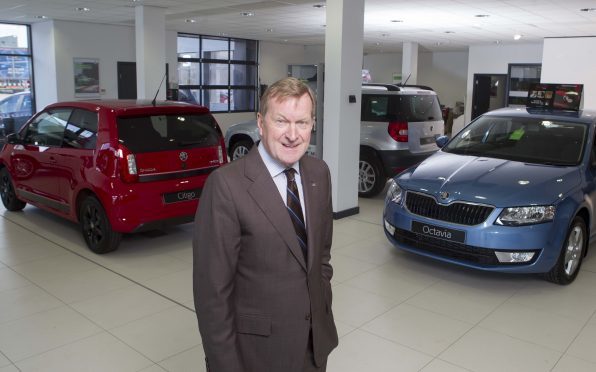 A north-east car magnate who has won countless awards in business and motor sport has said he is "extremely humbled" by his inclusion on the Queen's Honours List.
Entrepeneur John Clark, founder of the John Clark Motor Group, has been made an OBE for services to business, motorsport, and charity.
Last night, Mr Clark, whose firm has dealerships in Aberdeen, Elgin and other sites across Scotland, said the honour was also an award for his colleagues.
"Receiving such an award is a tremendous honour for me and I feel extremely humbled," he said.
"But is also a recognition of the many years of hard work that I and those closest to me have invested in creating the business and supporting a great many charitable causes.
"I am truly grateful for the backing I have received from my family, friends and work colleagues and this honour is as much for them as for me."
Edinburgh-born Mr Clark has had a lifelong association with cars.  He grew up in the vicinity of Merchiston Mews, home to the world renowned Ecurie Ecosse race team, and his early motor trade experience was with the Ford Motor Company and the Meadowfield Garage, followed by a period with Paddy Hopkirk Motorsport distributors.
From there he branched out on his own and started by buying and selling cars from his bedroom.  Capital from this enterprise enabled him to fund the acquisition of his first dealership in 1969.  He ran Lothian Sports Cars in Edinburgh selling Lotus and Scimitar.
Recognising the economic impact the oil and gas industry would have on Aberdeen and the surrounding areas, he established a used car dealership in the city in 1974.  A year later he was approached by BMW to represent its cars in Aberdeen and took on the challenge of growing the BMW franchise.  In his first year he sold six cars, multiplied to 100 in year two and in the following year increased to 200.
Mr Clark's early business results were achieved alongside a successful motorsports career as a BMW 323 driver.  In later years he also raced successfully in the British Touring Car Championships as well as winning countless trophies in Historic Racing Championships.  John also supported the inaugural MINI race series in Scotland and his continued support for Scottish motor sport is wide ranging.  The John Clark Motor Group has sponsored legendary Scottish motor racing team Ecurie Ecosse Young Drivers Initiative from 2010 and continues to help rising stars on the Scottish motor sport circuit.
Success with BMW in Aberdeen led to other premium brands being added to the portfolio and subsequently formed the foundations for the establishment of additional dealerships outside Aberdeen.
Today the John Clark Motor Group represents well-known automotive brands across Scotland.  Audi, BMW, BMW Motorcycles, Jaguar, Land Rover, MINI, SEAT, ŠKODA, Volkswagen, Volkswagen Commercials, Renault, Dacia, Peugeot and Nissan all form part of the John Clark Motor Group portfolio.  The Group now has sites in Aberdeen, Cupar, Dundee, Dunfermline, Edinburgh, Kirkcaldy and Perth that showcase the latest ranges of new cars and also stock a wide range of approved used cars.  Three accident repair centres, along the North East coast of Scotland, also form part of the John Clark Motor Group.
Under his continued direction the John Clark Motor Group has gone from strength to strength and as well as being recognized as one of Scotland's premier and largest motor businesses, the group recently won Retailer of the Year Award at the Automotive Management Awards 2015.
Aside from his love of cars and motorsport, Mr Clark has given considerable support to a number of charitable causes over the years including the Archie Foundation, cancer support services and more. The company is aiming to raise more than £200,000 for the Archie Foundation in support of its efforts to improve facilities for children and their families across Aberdeen, Tayside and Edinburgh.