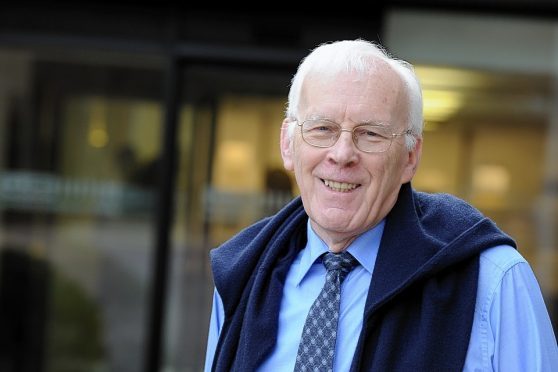 Sir Ian Wood has said he hopes the people of Aberdeen will see his latest honour as "an award for them".
The oil services tycoon said it came as a "huge surprise" to be made a Knight Grand Cross of the Order of the British Empire.
The chivalric honour is the highest civil rank in the Order of the British Empire.
The Aberdeen billionaire was made a CBE in the 1982 New Year's Honours and received his knighthood in the 1994 New Year's Honours.
The award citation states that: "Sir Ian has given considerable time and energy to a range of voluntary and philanthropic causes."
It cites his role as chairman of Wood Group, as author of the UKCS Maximising Economic Recovery Review, as leader of the Scottish Government Commission on Developing Scotland's Young Workforce and as founder and chairman of the charitable Wood Foundation.
Sir Ian said the associated paraphernalia of being made a GBE had caused "great mirth" amongst his family.
GBEs wear mantles of rose pink satin with silver tassels and a gold medallion collar.
The regalia is meant to be worn on "collar days" designated throughout the year.
It is thought Sir Ian is the first Aberdonian to receive the honour.
He said: "I hope Aberdeen will see it as an award for them.
"I guess it puts more responsibility on me to ensure I live up to it.
"I don't think I need any further motivation than I have got right now. I am going to do everything I possibly can to work for the future of the north-east of Scotland which has been extremely good to me."
Another offshore industry veteran, Trevor Garlick, was made an OBE for services to the oil and gas industry.
The former regional president of energy giant BP retired after a 30-year career in the sector in January.
Mr Garlick, who also served as a co-chairman of trade body Oil and Gas UK, said: "I am very surprised and also very pleased.
"What is really nice is it acknowledges the folks at Oil and Gas UK and my team at BP. I had great support from both of those teams."