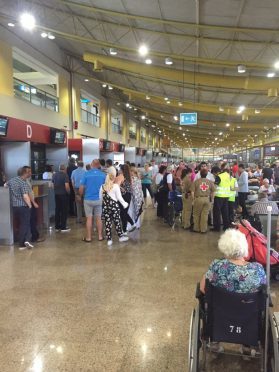 Disgrunted holidaymakers stranded in Portugal for two days after their flight was grounded finally got home to the north-east at the weekend.
Thomson-chartered flight FPO812T had been due to take around 100 passengers from Faro Airport to Aberdeen on Thursday morning but was delayed by a fuelling fault.
On Friday evening the "frazzled" tourists – who had been ferried between the airport and hotels several times – were told their only option was to get on a plane to Manchester then endure an eight-hour coach journey north.
Last night, Thomson issued a sincere apology to all its affected customers.
Steve Murray, from Bridge of Don, said: "The whole thing was a total disaster – there was no communication. The airport staff and Thomson reps had no idea what was going on.
"By the time they told us about the coach journey, I was absolutely devastated.
"I was close to tears.
"It was a take it or leave it offer.
"I'm 59 and fairly healthy but there were people in their 80s and folk with young children and I really felt for them."
Some passengers were transported to a hotel on Thursday evening but were then awoken at 3am on Friday morning and taken back to the airport.
But by lunchtime, when it became clear they would not be getting home after all, they were taken to yet another hotel.
It was 11.30pm on Friday night before passengers finally boarded a diverted flight from Menorca to Manchester, arriving in the UK at 3am.
Interior designer Lisa Watts, of Stonehaven, was travelling with husband Martin and children Jordan, 23, and Freya, 21.
The 43-year-old, who works for Janes Design Studio, said: "People were reluctant to take the flight but we had no choice.
"Everyone was absolutely shattered. It's not as if we were sitting by the pool – we were ferried to the airport twice.
"It was very traumatic.
"They kept raising our hopes and then dashing them.
"To be honest, I just really wish I'd never gone on holiday. If I'd known what would happen, I would have stayed at home.
"We will never ever book with Thomson again."
Lee McDonald, of Nairn, who was with his partner Jacqueline and their four-month-old daughter Ivy, said it had been difficult to keep the baby from overheating in 35C heat at the airport.
He added: "I just cannot believe it took so long to get home."