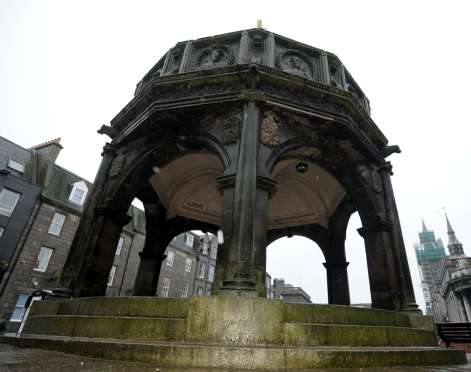 Two of Aberdeen's most iconic landmarks will be deep cleaned next week as part of a £2million project to lend lustre to the city centre.
Next Thursday and, over the course of next weekend, the Mercat Cross at the Castlegate and Smith's Screen – the facade of St Nicholas Kirkyard – will be given a thorough wash-down to remove layers of grime and foliage.
Due to the delicate facade of the pair of historic Granite City features, cleaners will take extra care to ensure no damage is done while carrying out their work.
The two sites are being rejuvenated as part of the first phase of the local authority's £2million package of improvements in the heart of Aberdeen, which form part of the Aberdeen City Centre Masterplan.
Councillor Marie Boulton, who chairs the cross-party city centre regeneration board said: "As well as delivering a modern, dynamic city centre, the masterplan aims to showcase out history and heritage – and these landmarks are very much a part of that."
The Mercat Cross was built in 1686 and used as a site for public celebrations and punishments, and was moved to the Castlegate in 1842.
And the enormous pillars of the St Nicholas facade have stood on Union Street since 1829.
Jenny Laing, the leader of Aberdeen City Council said: "The regeneration of Union Street will start in the coming months as part of the masterplan.
"The programme of works is still being finalised, but we wanted to act as quickly as possible in response to public calls to improve our city centre.
"We will carry out a clean-up of the Mercat Cross and a preliminary clean-up of Smith's Screen."
As part of the regeneration project, council workers will be involved in such tasks as power washing pavements and repainting railings.
Gary Craig, chief executive of business group Aberdeen Inspired said: "The St Nicholas Kirkyard facade and the Mercat Cross are two of Aberdeen's most well-known landmarks, so we're delighted to be playing a part in breathing new life into both.
"Although plans for the regeneration programme of Union Street are still being finalised, we thought it was important to start with proprietary work."