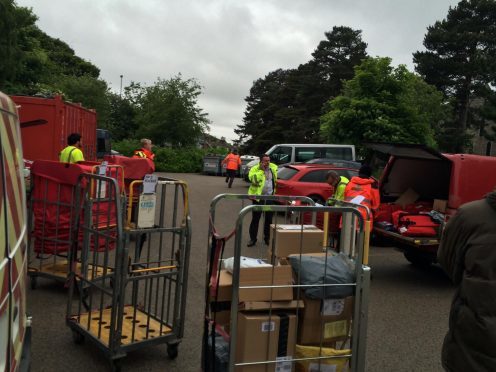 Postal workers in an Aberdeenshire village are being forced to work in a car park because of the closure of their sorting office.
Earlier this month, Royal Mail made the decision not to renew the lease of their Ballater sorting office, which serves Ballater, Crathie and Braemar.
As a result, staff are now carrying out their work in the small public car park on Swann Place, and it's understood a number of residents have reported their mail being delivered soaking wet.
Upper Deeside councillor Geva Blackett said: "This car park is a public facility and therefore, there are always other vehicles coming in and out, as well as a number of pedestrians walking through the area.
"The presence of the large Royal Mail van, as well as the many smaller delivery vans and the large trolleys for mail to be moved makes the car park hazardous for both Royal Mail employees and the public."
The Ballater post office is now based inside the Co-op supermarket in the centre of the village.
Julie Pirone, spokeswoman for Royal Mail said: "We have moved to a new system of sorting mail before delivery in Ballater.
"This involves transferring pre-sorted mail into Royal Mail vehicles before our postmen go out on their local routes.
"This new system is being used locally as our small delivery office was not fit for purpose and because Royal Mail is dealing with very low volumes of mail in a rural area.
"The Communications Union (CWU) has been fully involved in the changes and the system has been fully risk-assessed. There is no impact on the service we provide to the five rural routes which are served by our postmen.
"The new process has only been in place for four days and we continue to look at other ways of refining the transfer of mail locally in conjunction with our local postmen."
Alexander Burnett, Conservative MSP for Aberdeenshire West, said: "Local residents will be appalled to see post office workers having to sort through the mail in a public car park.
"Given the poor weather we have had recently, and will no doubt have again in the weeks and months ahead, this is clearly not a sustainable solution to the lack of a sorting office."