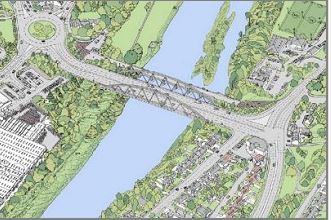 Plans to build a new bridge over the River Dee have come under fire amid claims it would "cause chaos" and damage businesses.
Last month Aberdeen City Council revealed it was looking into three options to ease traffic congestion in the south of the city.
Two of these have since been criticised by members of Garthdee Community Council.
However, the third option would be backed by members if alterations were made.
The first option – concept six – includes a new dual carriageway link road between Garthdee Road and the A90 Aberdeen to Dundee route.
There would also be a cable bridge, with improvements made to the road to allow two lanes in both directions.
The existing Bridge of Dee road would also be widened.
The second option – concept six B – would include all of this, as well as a link between Inchgarth Road and North Deeside Road.
The last proposal – concept seven – outlines plans for an arch bridge, with junction improvements and a single carriageway link road between Leggart Terrace and the A90 Aberdeen to Dundee road.
A statement released by Garthdee Community Council said: "Inchgarth community centre strongly and completely opposes the concepts of six and six B to build a new bridge which will join onto Garthdee Road at any point.
"This would bring chaos to our community on what is an already extremely busy and overused road.
"It would affect not only our customers, business and income, but every other local business while completely congesting that road to a standstill.
"Further, it raises considerable additional safety fears while the disruption alone would bring our community to a complete stand-still.
"Inchgarth supports concept seven, but without any slip road onto Leggart which shall serve no purpose other than to create a race to the bridge between those who choose to enter the bridge via Stonehaven Road or take their chances of a short cut down Leggart.
"We support a bridge alongside the existing bridge or widening the existing bridge or mix of both."