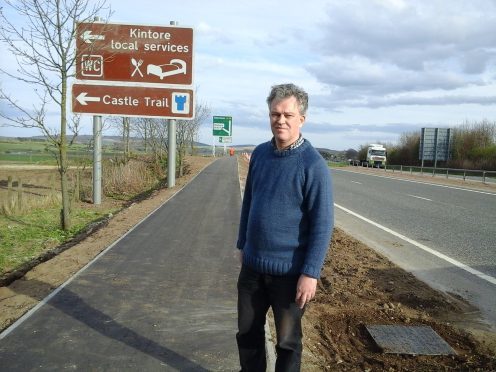 A councillor has called for £210,000 to be invested in completing a cycle link between the Granite City and an Aberdeenshire town.
East Garioch member, Martin Ford, yesterday called on Aberdeenshire Council's Garioch area committee to spend the spare funds on linking Blackburn and Kintore.
He is confident the popular route for cyclists and walkers will eventually form part of a full link between Aberdeen, Kintore and Inverurie.
Work on the Kintore to Thainstone leg has recently been finished, whilst Aberdeen City Council is in discussions about linking Blackburn to the city.
Mr Ford made the request whilst the committee discussed the council's new programme of active travel, which has outlined a number of projects for 2016-17.
Among the projects being considered for the Garioch area are improvements to Westhill's remote footways and two phases of the Inverurie to Kintore cycleway enterprise, which will run along the A96 Aberdeen to Inverness road.
Democratic Independent and Green Group councillor, Mr Ford, said: "The Inverurie to Kintore cycleway is looking pretty nice. There is £210,000 allocated for projects yet to be identified. I suggest asking the service to look at a cycleway between Kintore and Blackburn.
"We have one here as far as Thainstone. We have just built one, and it gets you on a bike, off the road, and goes all the way to Kintore.
"I know the city council has just been awarded match funding for a cycle path between Blackburn and Dyce.
"The bit we need identified for construction is Blackburn to Kintore. I hope that we would consider investigating the missing link."
Mr Ford argued this would create a "complete cycleway" all the way to Inverurie.
The council's strategy practitioner, Chris Menzies, responded: "A meeting has been set up with colleagues in regard to the connecting of Kintore to Blackburn."
The committee agreed to pass the request for a further report on a new cycle link to the council's infrastructure services committee.