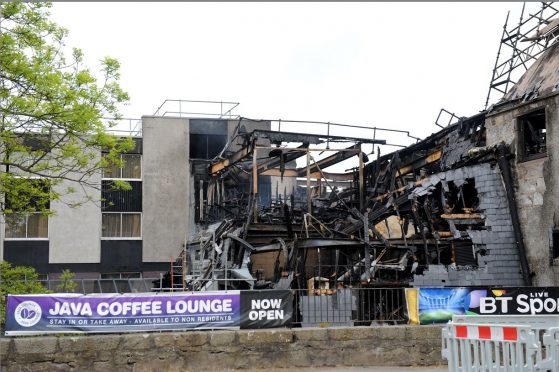 A road next to an Aberdeen hotel, which was devastated by fire earlier this month, will remain closed until the end of July.
Aberdeen City Council is imposing a one-way restriction on Oldmeldrum Road, alongside the Britannia Hotel in Bucksburn, from 7am on June 24 to 11pm on July 29 between its junctions with Station Road and Malcolm Road.
Almost 100 firefighters battled the conflagration at the Britannia Hotel on June 9.
In the interim period, the Scottish Fire and Rescue Service has been conducting an investigation into the blaze and two roads around the building have been shut.
At the height of the incident, smoke could be seen from as far away as Summerhill and Bridge of Don.
Around 200 guests were staying at the hotel at the time of the fire.
Bucksburn councillor Gill Samarai said that while some residents would find the closure "frustrating", many would understand the reasoning behind it.
She added: "I think there is a safety concern here and, obviously, it would be foolhardy to open the road again before they are totally sure about the structural integrity of the hotel.
"It will be disappointing for some of the residents of Malcolm Road, but I think people will generally see that safety must be paramount."
The permitted direction of travel will be north-westbound only.
An alternative route for eastbound vehicles is available via Auchmill Road, and Mugiemoss Road and Britannia Hotel has agreed to allowing access to Malcolm Road through its car park in the next few days.
The Scottish Fire and Rescue Service is investigating the blaze and the building is still unstable.
An Aberdeen City Council spokeswoman said: "We apologise for any delays the temporary road closure will cause although we have to ensure safety is a priority is a while the building is unstable."