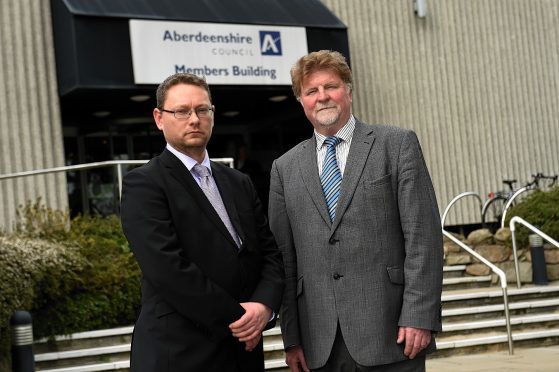 The co-leader of Aberdeenshire Council is facing a tumultuous 24 hours as he prepares to answer questions about his decision to walk out of a North Sea jobs conference – because he was forced to stay at Legoland.
Martin Kitts-Hayes was part of a north-east delegation which was due to attend the North Sea Commission at Billund in Denmark a fortnight ago.
But despite being scheduled to speak at the event, Mr Kitts-Hayes ordered the party to fly home just two hours after arriving at the accommodation at Legoland Holiday Village.
Now opposition councillors – who are "obviously concerned" about damage done to the local authority's reputation – have forced through a motion to hold a public debate about the facts surrounding the debacle at tomorrow's meeting of full council.
And the Press and Journal can reveal that should a vote of no confidence in the co-leader arise, the administration does not have a guaranteed majority.
The confidence and supply agreement which the ruling Partnership signed with the Democratic Independent Green Group last year does not include a promise to support the co-leader in the case of "any confidence votes relating to alleged incompetence or wrong-doing."
However DIGG member Martin Ford said he and councillor Paul Johnston would not make a decision on whether or not to support Mr Kitts-Hayes in a potential vote until all the facts were uncovered.
He added: "There is an investigation going on to establish the facts. When we see the facts we'll consider then taking a view."
Last night Councillor Jim Gifford, leader of the Alliance opposition group, said: "We are obviously concerned about events that have unfolded over the past week and in order to have a debate on the issue at full council on Thursday we have submitted a motice of motion to the provost."
Liberal Democrat leader Karen Clark said "important principles" are at stake, and Independent Group coordinator Norman Smith added the incident has "far reaching implications for the reputation of this council."
Last night Aberdeenshire Council chief executive Jim Savege told the P&J that a probe into the events surrounding the delegation's aborted visit to Denmark is now underway.
However he added that there is "no timetable" for when the findings will be published.
Mr Kitts-Hayes has previously described his decision to leave as "a poor one". He was unavailable for comment last night.