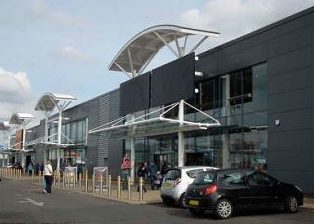 Ambitious plans to build a retail park and create 500 jobs in the north-east's biggest town could finally be realised – more than a decade after they were first proposed.
The Buchan Gateway scheme on the outskirts on Peterhead is being spearheaded by Fife-based developers Hermiston Securities who have tabled plans for a hotel, petrol station, supermarket, shops and restaurants.
The proposal was mothballed for several years, but was resurrected last summer and Aberdeenshire Council has struck a deal with the firm to grant planning permission in principle for the whole site which will include more than 700 parking spaces.
The developer's Stonehaven-based agent, John Agnew, has estimated it could generate £50million of investment for the local economy.
He added more than 500 jobs could be created in total – around 150 during a 30-40 month construction phase, followed by around 400 permanent positions in the various shops, restaurants and units.
The Buchan Gateway application was presented to local councillors for their approval in August. The Buchan area committee agreed to back the scheme, but attached several conditions to the development in a bid to protect businesses already located in the town.
These stipulations – and a Section 75 developer contribution deal – have now been thrashed out by Hermiston and council planners.
In a new report, local authority planning boss Robert Gray said that, now the necessary guarantees have been given, work on the site must begin within two years.
The conditions attached to the Buchan Gateway project include limiting the non-food retail outlets to selling "bulky" goods, items which would unlikely be available in smaller town centre shops.
The food retail units would also have a minimum floor space, so they are not in direct competition with independent town retailers.
Mr Gray added: "The proposal fully complies with the requirements of the development plan to provide opportunities for retail within the strategic growth area regeneration priority area."
A detailed planning application for a hotel and neighbouring pub has already been lodged with the council as firms look to kickstart work on the site.
But concerns have still been raised that the ambitious development will actually hamper regeneration efforts in Peterhead's town centre.
Community councillor Stephen Calder lodged an formal objection to the scheme and last night said: "To take away from the town centre would potentially jeopardise longstanding businesses.
"It's selling goods that are available in Peterhead already with aftercare services that won't be available from these big firms.
"There should always be a town centre first policy."