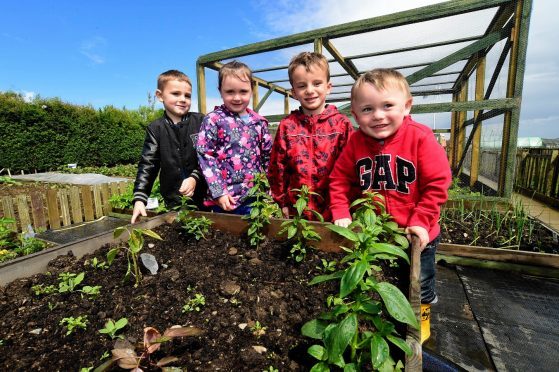 An ambitious allotment project at a north-east school has been launched to promote healthy eating and sustainable living.
The Dales Park School Allotments in Peterhead is an initiative which has been spearheaded by local community councillor Bruce Buchan.
Mr Buchan worked with the staff, pupils and local businesses to raise money and equipment to open a gardening space near the school.
At yesterday's ribbon cutting ceremony, Mr Buchan said: "Dales Park adopted an allotment as an educational resource. There was an allotment wishlist of things to make it good for the school, including disabled access.
"As a community councillor I approached various businesses in the town and they've been brilliant – look at what we've done."
The development, which is part of a larger allotment site to the rear of the school building, now includes a fruit cage to protect
plants from birds and other pests.
The soil beds have been raised and the areas around them paved to allow disabled access to all parts of the school allotment.
And generous donations from local firms have paid for a polytunnel, green house and a £1,000 wind turbine. The team has also installed a new water well to make the site as sustainable as possible.
Mr Buchan added: "We've done a good thing here and I hope it will serve the school for years to come."
And Dales Park head teacher Scott Anderson, who was joined by youngster's from the primary school at the ceremony, said:
"Bruce came in on the very first day of term and introduced himself to me."
The teacher praised the "incredible work" of Mr Buchan and said as a result of his regular visits to the Berryden Road school "excitement around the school buildings began to grow.
"This has far exceeded anything the school could have expected."