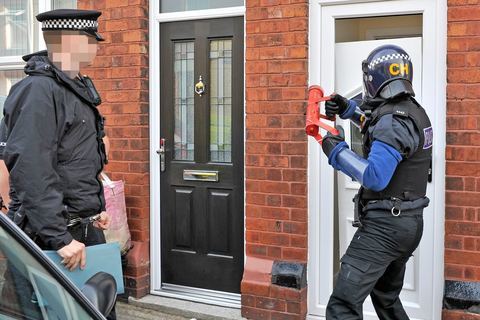 Eight men have been arrested in connection with a spate of ATM raids across Scotland and England.
Cash machines have been targeted by criminals using explosives to get at the contents or by dragging them out of stores using a car and rope.
In June last year, thieves allegedly blew up the ATM at Tesco's Newtonhill branch and made off with £50,000.
In August, more than £10,000 was allegedly stolen from the Co-Op in Kingswells.
Yesterday, police revealed eight men had been arrested for alleged raids in Perthshire, Reading, Cheshire, Gloucester, Thames Valley, Swindon and Merseyside.
It comes after Police Scotland teamed up with the north-west of England's crime reduction unit, Titan, to investigate the high-profile raids.
During some of the alleged raids the thieves would instigate a small explosion inside the machine which exposed the cash.
In other incidents they used high-powered tools to cut through the shutters of stores containing ATM machines before dragging them out to a stolen vehicle.
Detective Chief Inspector Alex Dowall said: "These arrests follow an unprecedented level of joint working between Police Scotland and Titan in what is a complex investigation involving specialist resources.
"Crimes of this nature are rare but impact on our local communities and these communities can be reassured that Police Scotland will use every resource available as a part of our commitment to keeping people safe."
A ninth man, who was discovered in a house in St Helens during the execution of the search warrant, was arrested for an unrelated offence of failing to appear before a court in Scotland.