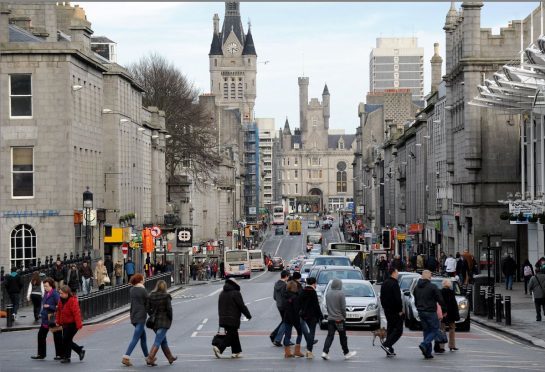 A new study by Aberdeen council chiefs claims the city could benefit from a £2.5billion cash windfall.
The local authority says this could "insulate" the city from further funding cutbacks.
Last night, the council's finance chief hailed the work of head of economics, Richard Sweetnam, and maintained the council was "spending now" to generate more funds in the future.
Willie Young, finance convener at the Labour-led authority, said that "smart economics" had allowed the council to create a "war chest" which will be ploughed into transport, housing, business and cultural infrastructure.
The cash is from both the public and private sectors.
Around £800m of has already been invested in large-scale transport projects including the AWPR, Third Don Crossing and council committments to Berryden Corridor improvements.
In the city centre, over £200m has been committed to commercial space at Marischal Square, the Silver Fin and Capitol developments.
Aberdeen International Airport is investing £20m in its modernisation plans and the Art Gallery and Music Hall redevelopment equates to nearly £40m of investment, in addition to another £330m on the new AECC site.
Details of the initiative, known internally as 'Shaping Aberdeen', have emerged five months after council chiefs secured the £250 million City Region Deal.
Much of that money will be spent on feasibility studies which are expected to unlock around £900million worth of projects, including the modernisation of Aberdeen Harbour.
However, opposition politicians expressed scepticism on the claims, dismissing them as "fantasy economics".
Mr Young said: "People will be wondering how Aberdeen City Council has amassed such incredible sums of money despite being the lowestfunded local authority in Scotland.
"The truth is we have become pretty adept at making the most of our meagre funding settlements and this has allowed us to embark on a programme of regeneration which is greater, or at least as great, as any other city on the planet.
"We are facing a dire set of circumstances with the oil downturn, but rather than freeze with indecision like those who have gone before us, we have been spurred on to build this war chest for a slew of regeneration projects which will drive inward investment into the city and kick-start our economy.
"There were 1,300 new start-ups launched in Aberdeen last year, more than any other city in Britain.
"Everything has to be considered in the round and when you embark on a plan of this size, you have to ensure all the pieces of the puzzle fit for generations to come."
Gary Craig, chief executive of business body Aberdeen Inspired, said: "Investment in the city centre is welcomed by Aberdeen Inspired, particularly given the economic climate in the north-east at present which makes it even more crucial.
"We are happy to work together with partner organisations to further encourage investment of this kind in Aberdeen. This is a time when working together has never been more important and it will be great to see future plans become a reality.
"Aberdeen Inspired is investing a minimum of £6.5 million in the heart of Aberdeen over the next five years which will play a huge part in reinvigorating the city centre."
But Aberdeen South MP, and former council leader, Callum McCaig responded: "I think people in Aberdeen are well used to Willie Young making big claims, but it seems he is just making things up now.
"This isn't smart economics, it is fantasy economics."
Former SNP group leader Jackie Dunbar added: "Councillor Young is trying to claim the credit for the investment coming to the city.
"In actual fact, the majority of the investment is being made by the Scottish government and the private sector. This is in spite of him not because of him."