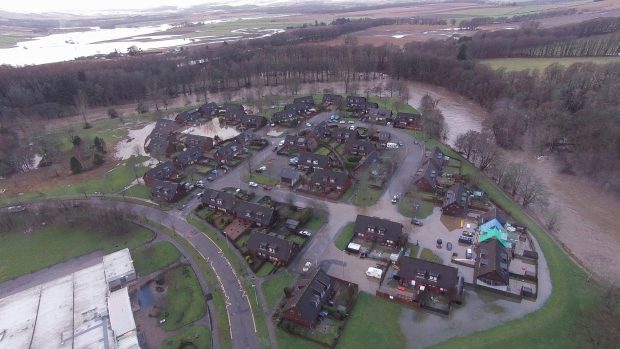 A north-east politician has backed a call of action to prevent a Donside community from future flooding.
Mike Rumbles has united with the Kemnay Community Council and demanded steps be taken to protect the village from a future downpour.
Forty-seven homes in Kemnay are recorded as having flooded when the river broke its banks on January 7, but locals claim this figure is nearer 62.
Despite the deluge, Kemnay has not been included in Aberdeenshire Council's north-east local flood risk management strategy for 2016 to 2022.
And Mr Rumbles has written to the local authority's chief executive, Jim Savege, asking for the council to carry out a flood risk assessment in Kemnay.
He said this would also lead to "action" from the Scottish Environment Protection Agency (Sepa).
]
It comes as more than 200 people in the village backed a petition, led by Kembhill Park residents, for a flood barrier to be expanded along the River Don.
They claim it was this gap in the flood defence which caused the river's waters to flow into their homes in the area in January.
North-east MSP, Mr Rumbles, said: "I welcome the work recently undertaken by the council in Port Elphinstone and Inverurie to repair damaged flooding infrastructure, however it is essential that they address the legitimate concerns of other flood effected communities, such as here in Kemnay.
"The Kembhill Park area does not fall under the north-east local flood risk management plan and as such residents have legitimate concerns regarding the safety of their homes, particularly after flood warnings were issued for the area as recently as June."
Last night a council spokesman said: "Aberdeenshire Council is already very aware of the understandable concerns of the residents of communities that were flooded as a result of the exceptional weather event at the turn of the year, including Kemnay.
"There have been meetings with local residents since the floods and the Garioch flood recovery plan includes a section highlighting community concerns.
"Discussions are ongoing with partner agencies, particularly Sepa, about how best to address these."
Locals have previously called for Kemnay to be deemed a potentially vulnerable area (PVA) under its review of its national flood risk assessment (NFRA) – which will be announced in December 2018.
A Sepa spokesman said: "Kemnay is covered by the north-east local flood risk management plan, in that it identifies actions to manage flood risk which apply everywhere where there is a risk of flooding."
He added Sepa was not awaiting or "dependent" on a flood risk assessment from the council as part of its own NFRA review.