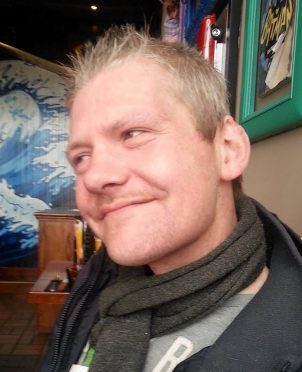 Two thugs who murdered a man by punching, kicking and hitting him repeatedly with a dog lead have been jailed for a total of 36 years.
Despicable Ryan Gibb, 30, and Cameron Laurie, 31, were given 18 years each on Thursday for murdering James Chadwick at his home in Holland Street, Aberdeen, at a time between August 31 and September 1 last year.
The High Court in Edinburgh heard how the two men subjected 38-year-old Mr Chadwick to a sickening physical assault for no reason whatsoever.
The pair had spent the day of August 31 2015 last year drinking before arriving at Mr Chadwick's property.
Both Gibb and Laurie, who were described in court as being alcohol dependent, then repeatedly punched and kicked Mr Chadwick on the head and body.
The pair then struck their victim with a dog lead before repeatedly stamping on his head and body.
They then tried to destroy evidence linking them to the crime by cleaning Mr Chadwick's blood from the floors and surfaces of their victim's property.
The two crooks also placed Mr Chadwick's body on a sofa and placed a towel before leaving the flat in a bid to evade justice.
The two men, who spent their three week trial on remand at HMP Grampian, denied having anything to do with the crime.
But on Thursday, after spending 24 hours deliberating their verdict, a jury found the two men guilty of murder.
They were also convicted of a second charge of destroying evidence between August 31 and September 9 2015 which linked them to the crime in an attempt to defeat the ends of justice.
A third charge which alleged they had both committed a breach of the peace at premises on Holland Street, Aberdeen, on September 1 2015 had been withdrawn by the Crown during proceedings.
Passing sentence, judge Lord McEwan told the men, who have previous convictions, that given the jury's decision, he had no other option but to sentence them both to life imprisonment.
He added: "You have been both convicted of a brutal murder of a man in his home. This gentleman had done you no wrong or expressed ill will towards you.
"As far as the evidence has shown this was a motiveless crime. I cannot distinguish between you. Neither of you is of good character. I will therefore set the punishment part of your sentences at 18 years."
The court heard that in the hours leading up Mr Chadwick's death, he appeared to be in a good mood.
Shop worker Marie Fraser,35, told jurors that he was in a good mood when he came into the L&M store in Hutcheon Street, Aberdeen, on August 31 last year.
She told prosecution lawyer Jim Keegan QC that Mr Chadwick was a regular customer at the convenience store and would regularly buy bottles of Frosty Jack cider and cigarettes from her.
She said: "He was a cheeky chappy. He seemed to be in good spirits."
However, Gibb and Laurie – who had spent the day drinking heavily – went round to Mr Chadwick's home.
The pair had known him and were acquaintances. They launched a brutal attack on him which resulted in his death.
In the days following their crime, Gibb and Laurie had left behind enough evidence at the crime scene to allow the police to bring them to justice.
Karen MacKenzie,29, was the former partner of Cameron Laurie.
She told the court that in the days following the death of Mr Chadwick, her boyfriend told her about a conversation that he had with his co-accused Gibb.
In this conversation, Laurie told his lover that Gibb had said the pair of them had attacked Mr Chadwick. Ms MacKenzie made mention of the conversation in a statement she provided to detectives investigating the murder.
Part of the statement was read out in court.
In the statement, Ms MacKenzie told officers: "Cameron told me that Gibby had told him that he and Gibby had assaulted James in his own flat."
Laurie also rang Ms Mackenzie, from jail and spoke to her about his role in the murder. The court heard how he was on remand at the time of the calls. Jurors at the High Court in Edinburgh heard excerpts from transcripts of various telephone conversations made between Mr Laurie and Ms Mackenzie.
In one conversation, Mr Laurie told Ms Mackenzie: "I remember being in the house. I can't remember fighting or nothing.
"All I can remember is the blood on the back of his head and trying to stop the blood."
He also told Ms MacKenzie that he had been informed by his friend Mr Gibb that the two of them had assaulted Mr Chadwick.
He said: "I told you that Gibby told me we had a fight with James which is the truth."
Her evidence was partly corroborated by evidence given by 56-year-old Carlton Cosier.
He said that following Mr Chadwick's murder, Ryan Gibb told him that his co-accused Laurie had given his victim a "right beating" and had knocked him unconscious.
Mr Cosier, of Aberdeen, said that Laurie picked up a dog lead and James was knocked unconscious.
Mr Cosier, who told the court that he is unemployed, also said that Mr Chadwick was also an "acquaintance" of his.
He told Mr Keegan that Mr Gibb had came to his house and told him that Cameron Laurie had attacked Mr Chadwick.
Mr Cosier said: "He said James had a fight with Cameron and it had been quite serious.
"He said that James had passed out."
Mr Cosier then told the court that Mr Gibb alleged that Mr Laurie repeatedly struck the alleged victim with a dog chain.
The court heard that Mr Chadwick was knocked unconscious and that the two men tried to resuscitate him.
Mr Cosier added: "He said it was quite serious. He said James had passed out.
"He said James had been knocked unconscious. He said James ended up lying on the floor and was unresponsive and was just twitching.
"He was in a beat up state."
At the end of proceedings, jurors decided there was enough evidence to convict the two men of murder.
Following conviction, Mr Keegan told the court that Gibb, who lived at a guest house in Crown Street, Aberdeen, prior to his arrest, had convictions for assault and possession of an offensive weapon.
Laurie, who lived at an address in Fraser Court, Aberdeen, prior to his arrest had convictions for public disorder.
Mr Keegan also said that at the time he was arrested, he was being investigated by police in Aberdeen for alleged domestic abuse offences. Gibb's advocate Neil Shand told the court that his client had a drink problem and that this contributed to his record of offending.
Mr Shand said that Gibb also had a problem with cataracts and this caused him to stop working at a job he had.
Mr Shand added: "He ended his employment because of his cataracts and this caused him to once again turn to drink and drugs.
"He ended his employment approximately one month before the offences for which he has been convicted of today."
Laurie's counsel Ximena Vengoechea told the court that her client suffered from a learning disability.
Ms Vengoechea told the court that he also turned to alcohol to deal with grief.
She added:"He has been diagnosed with Attention Deficit Hyperactivity Disorder and this has had the effect of accelerating his offending behaviour.
"His father passed away and this took a huge toll on his mental health.
"The combination of ADHD and alcohol abuse has contributed to his offending."
Ms Vengoechea also said that her client had no recollection of the murder.
He added: "He has tried to recollect what happened that evening but to no avail.
"He can remember being asked by Mr Gibb to go for a drink. He agreed to do that. This is a decision which he regrets."
Lord McEwan handed the two men a 12 month sentence for their attempt to defeat the ends of justice. This term will be served concurrently with the murder sentence.