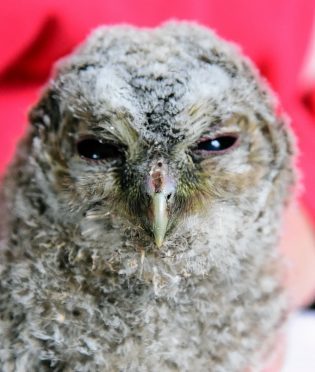 A north-east man who suffers from mental health problems has created a unique initiative to try and help others with similar issues.
William Lawson, from Lonmay, started offering local groups visits from owls last year and has already drawn plaudits from Aberdeenshire galas and events which employ him to make their days extra special.
Bobs Buddies – the name he has given the high-flying business – has two owls which it can call upon to transport to events throughout Aberdeen.
And, after receiving an £1,000 grant from the Prince's Trust, his team could not resist enhancing their success story.
They now hope that the three baby owls they have taken in from the Scottish Owl Centre can begin working with children and adults with learning difficulties and other mental health problems.
Mr Lawson said: "Being autistic, bipolar and having ADHD myself, I know what it can be like to struggle, especially in social situations.
"With my owls, I have been able to overcome many obstacles and I know this helps me.
"So I want to share my experiences, help others with their issues and let people know that they are not alone."
This month alone, Bobs Buddies has visited Kynnaird House care home in Fraserburgh and Aberdeen City's Health and Social Care Partnership's Kaim Court sheltered housing complex.
Louise Austen, co-manager of the business, added: "We want to be able to help out, where and whenever possible, be it in a care home, a school, a birthday or a therapy session.
"If we make someone smile, it's job done"
The three owlets are already going through their training to prepare for their new roles, and could now help the team reach out to more people than ever before.
Bobs Buddies has appreciated help from the Business Gateway, the Prince's Trust and Aberdeenshire Council.