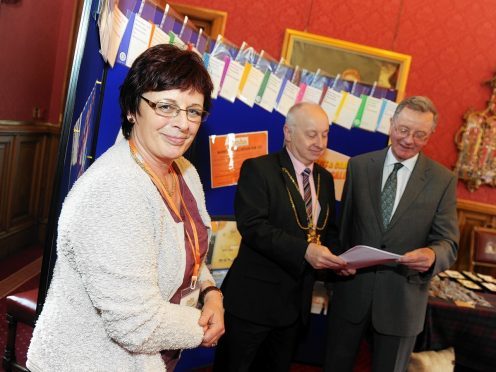 Another Aberdeenshire charity could be forced to close down due to a controversial council shake-up of mental health services.
Pillar Kincardine, based in Stonehaven, caters for people with serious emotional and mental illnesses in Kincardine and Mearns.
But its future is uncertain after Aberdeenshire Council redesigned how it intends to cater for those living with such conditions.
In September, councillors will choose which of five "excellent" bidders to run mental health services for the council will get contracts – with the new regime due to be in place from January 1.
These will be run from three newly formed "lots" – Aberdeenshire north, central and south.
Mental Health Aberdeen has already said the council changes will force them to close down its Aberdeenshire services and cut 26 jobs.
And last night service manager at Pillar Kincardine, Moira Hurry, confirmed the charity would not be bidding for the Aberdeenshire South contract.
At the moment, Pillar operates day care services under a contract with the council.
She added: "It was an extremely tough decision for Pillar board. Staff are devastated for the service users.
"A lot of people are going to be impacted because of this. A lot of the service users are really concerned, a lot of them told us that Pillar has been a lifeline for them and continues to offer that for them."
Pillar caters for people in Kincardine and Mearns, but the Aberdeenshire South area includes Deeside, expanding as far west as Braemar.
Mrs Hurry said it would not be possible to run the service seven days a week in such a vast area with the funding on offer.
She also fears the new structure, which is in the process of being introduced, would ignore vulnerable people "on low level need".
She explained: "I don't think people are aware how affecting it's going to be for people who currently qualify, but may not when the new service is up and running."
However, a council spokesman claimed the new tender does not exclude people who may be deemed "low risk".
Chief officer of the Aberdeenshire Health and Social Care Partnership, Adam Coldwells, said: "We value our partnership with Pillar Kincardine and the service they provide.
"We were disappointed they did not feel able to bid for the south contract, but the five bids we have received are all excellent and we look forward to working with the successful organisation.
"Our priority is to ensure there is a seamless transition for service users when the new provider is appointed in September and we are keen to work with Pillar to make that happen."