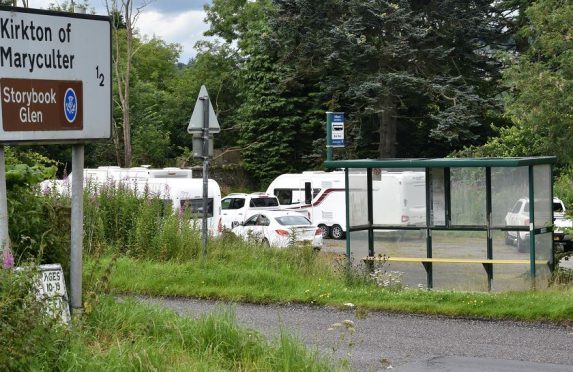 Travellers have pitched up on the site of a historic north-east pub that has lain empty since the Storm Frank floods.
Five caravans and a number of vans rolled up at the Old Mill Inn's car park in Maryculter on Sunday.
However, as the land is privately owned it will be up to the landowner – rather than the council – to evict them.
Local councillors last night said such sites were to be expected until further official halting sites are made available.
The former restaurant, hotel and pub has been closed after being flooded twice during Storm Frank, which caused the River
Dee to burst its banks first on December 30, 2015.
It had only reopened in August last year having been closed since October 2014.
And earlier this year, the inn's owners decided to put the property on the market.
The parking area is shared with the Crombie Hall, a community facility.
Last night North Kincardine councillor Ian Mollison said: "From speaking to the local people it is certainly a concern for a number of them, but my understanding is it is up to the landowner to decide whether they want to take action.
"It is not, I think, an easy situation. We need more traveller's sites around Aberdeenshire but it is very difficult to provide them."
Chairman of the Kincardine and Mearns area committee, and local councillor Carl Nelson, added: "Well it is the old story, these guys go and find a place where they can and just settle down and stay they are until requested to move on by the police or others.
"It is up to the owner of the property to move them on. It is a very difficult one. At the moment we don't really have any halting sites for them, there is nowhere to move them onto. Maybe in the next few years we'll end up getting somewhere."
Earlier this year the council agreed to authorise travellers site, North Esk Park at St Cyrus, which was established without planning permission in 2013.
Last night an Aberdeenshire Council spokesman said: "We believed that they had moved on last night, however if that is not the case then one of our officers will be going down to inspect the site."
The owner of the Old Mill Inn was not available for comment last night.