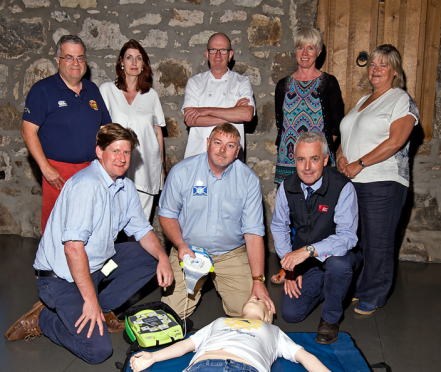 A piece of lifesaving equipment has been donated to one of Deeside's busiest community facilities.
The Banchory office of Strutt and Parker has presented the defibrillator to Woodend Barn on the outskirts of Banchory.
The heart-start machine was donated as part of the estate agency firm's charity funding for the year.
David Smart, a partner at Strutt and Parker's Banchory office, said: "We have long been associated with the Sandpiper Trust, a charity working to improve rural emergency medical care, of which one of the founders was former Strutt and Parker (Scotland) chairman Robin Maitland.
"We felt funding a defibrillator fitted in well alongside the Sandpiper Trust as it is all about improving emergency medical help in rural areas.
"We felt it was appropriate to locate it in the Woodend complex as it has a high footfall and is visited by a wide demographic."
The lifesaving device was presented to Woodend landlord and Aberdeenshire West MSP, Alexander Burnett.
Mr Burnett said: "During the last two years, I have attended many community council meetings where defibrillators have been on the agenda, so it is particularly satisfying to be directly involved in the installation of one at Woodend Barn.
"In an emergency, speedy medical response really can be the difference between life and death.
"The work of the Sandpiper Trust is ever-more crucial in that regard, and the promotion of first aid training and provision of this type of equipment will quite literally save lives."