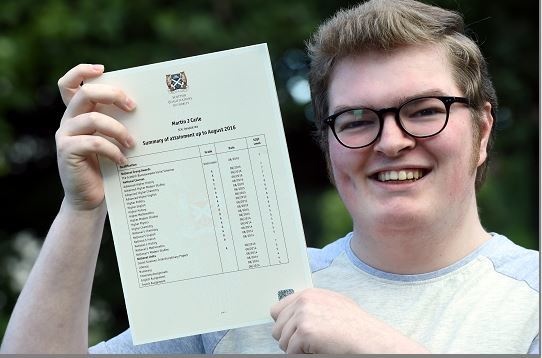 Thousands of school pupils in Aberdeen woke up to nervously open their exam results yesterday.
The stomach-churning experience was shared by 3,730 youngsters, a reduction of 22 from the year before.
Among fourth-year pupils, there was an increase in pass rates in National 5 Maths, from 71.6% in 2015 to 75.2% this year.
In English, nearly 89% of pupils passed their exams.
It was another successful year for Higher English pupils, with a pass rate of more than 85%, with just under 80% successful in Higher Maths.
Among those celebrating was sixth-year St Machar Academy pupil, Martin Carle.
The 17-year-old achieved two As, a B and a C at advanced higher, an A and B at higher, and a Baccalaureate in social sciences.
Last night, he said he said he was delighted with his results.
He said: "I was really surprised, I think it's a great set of results I've got and I'm really pleased.
"Because I did advanced highers there were quite a lot of subjects I found challenging, so when it came to the exams there was a lot of nervousness."
And Martin admitted his family might have shared in his nervousness.
He said: "They were really happy, they have heard my throughout this time saying 'I'm not sure how I've done', I think they'll be pleased and relieved at how it's gone."
Martin has an unconditional offer to study history and politics at Aberdeen University.
The city council's education convener, Councillor Angela Taylor praised the accomplishments of the city's youngsters and said: "I am pleased to see that there continues to be an overall improvement in this year's attainment figures as closing the education gap remains a top priority for this council and we will continue to work towards this to ensure all our children have equality of opportunity to enable them to reach their full potential."