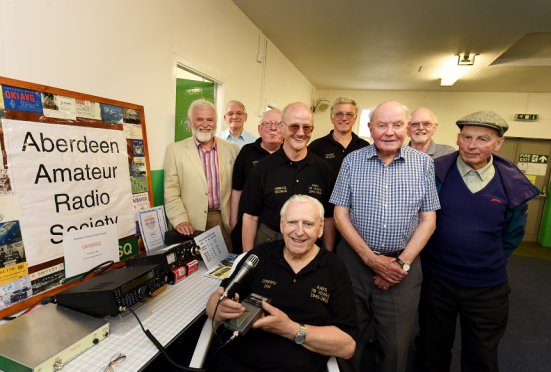 A north-east club dedicated to keeping the spirit of the radio alive will celebrate its 70th anniversary at a special dinner next weekend.
Founded in the aftermath of World War II, the Aberdeen Amateur Radio Society (AARS) has made contact with hundreds of groups of radio technology aficionados from across the globe.
And despite the advent of the digital technology completely changing the face of electronic communication, the organisation's 55 members from across the north-east still meet every week.
Club president Ian Fraser said: "We've operated out of so many places around Aberdeen that it's hard to remember them all.
"At one point we were transmitting out of a pigeon loft – the founding members met wherever they could find a premises.
"One of our first permanent locations was on Blenheim Lane, but in 1973 we had to leave there after a disastrous fire, which sadly resulted in a mechanic losing his life.
"But we've been based at the scout hut on Oakhill Crescent for the last 10 years or so, and it's absolutely ideal for us.
"We meet on a Thursday night, and we have talks, videos, and work on construction, where members build and design their own radios, transverters and other devices, and speak to stations and societies from all over the world, from New Zealand, to Japan, America and more."
In addition to tinkering with the radio technology of the past, the AARS also do a lot of work with modern radio equipment, and frequently help scout and guide groups across the city earn their communications badges by teaching them how to master the airwaves.
They will celebrate 70 years as a club on September 8, at a special dinner at the Atholl Hotel.
Secretary Fred Gordon said: "We do a lot of work with wider community groups, it's part of the society's mission to preserve the history of the way we communicate – but we of course are very interested in modern technology as well.
"Part of the appeal of amateur radio is anybody can pick up a mobile phone and dial their granny in Australia, but if you manage to speak to her on equipment that you've built yourself, it really is much more exciting and interesting, it's a real buzz."
To find out more, visit www.aars.org.uk