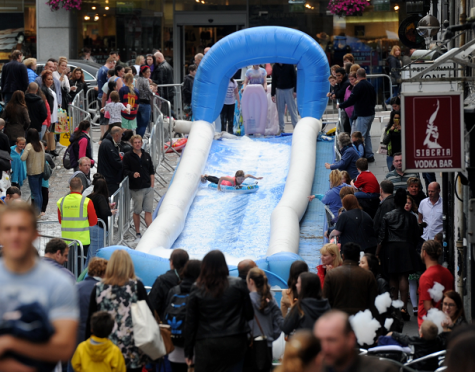 A popular waterslide is to return to Aberdeen city centre next month as part of In Town Without My Car Day.
The event will also include performances from Aberdeen University's Circus Skills Society and an opportunity to get hands-on with experiments from Aberdeen Science Centre.
Schoolhill and Belmont Street will be closed to traffic for the slide, which will be 40 metres in length.
Details for booking the waterslide will be made public at a later date.
In Town Without My Car Day, sponsored cycle rides and bicycle roadshows are all part of the fun for European Mobility Week in Aberdeen.
The event is one of several planned to help people find out more about public transport, responsible car use, cycling, and walking alternatives to using a car, and also to demonstrate to people how space can be used differently.
The European Union-backed campaign promotes sustainability and cities are encouraged to take part by signing up to the campaign and pledging to raise awareness by holding events and implementing permanent measures.
Aberdeen City Council Regeneration and Transport spokesman Councillor Ross Grant said: "It is fantastic the waterslide is coming back to the city centre as part of In Town Without My Car Day as it was such a popular event last year.
"We're looking forward to welcoming everyone to the event where they can also find out how easy it can be to get about the city using alternative forms of transport to a car."