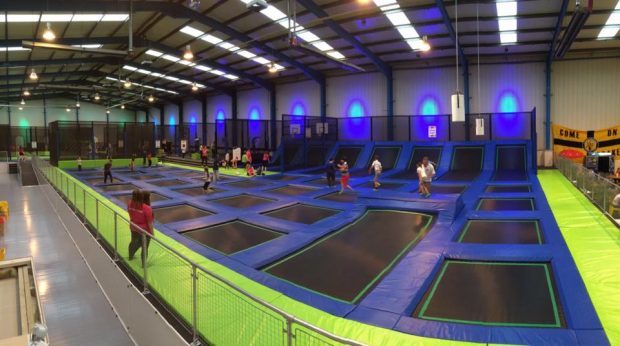 Dozens of jobs could be created by the conversion of a disused industrial unit into Aberdeen's first dedicated trampolining arena.
Plans to turn the former headquarters of collapsed double glazing firm AC Yule into a leisure facility have been submitted to the city council.
It would be the first venture in Scotland for UK firm Jump In as it seeks to exploit fast-growing-demand for the US-style centres.
It intends to spend around £1million on the transformation.
Boss Vernon West said there had already been an "overwhelmingly positive response" from local people – including an unprecedented 5,000-plus likes of a Facebook page set up to promote it.
Schools and community groups have also expressed strong interest in sending groups to use it, he said.
A £20,000 marketing drive is planned ahead of the opening of the 150-capacity arena, which is due to be up and running by March 2017.
The building on West Tullos industrial estate – which has lain unused since 2011 – had been earmarked to become a storage facility but the proposal was ditched in light of the economic turndown.
Jump In is promising to recruit 20 full-time staff and up to 46 part-time and casual roles, some of them seasonal.
They will be advertised later this year if the project gets the go ahead.
"Given the lay-offs experienced by Aberdeen in the aftermath of the oil price drop, we expect strong demand from young people especially given the training programme provided," the firm stated in its application.
Mr West said: 'We are really excited to bring Aberdeen the best the trampoline park sector has to offer. The public response suggests high excitement and we can't wait to open – subject to planning permission."