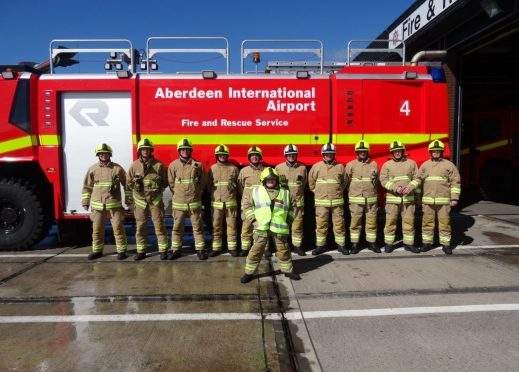 The heat is on for a schoolboy to realise his dream of visiting every fire station in the UK.
Andrew Dane Impey, along with his father Paul, spent part of his summer holiday visiting more than 20 stations across the north and north-east of Scotland.
The 10-year-old, who has autism, has now visited more than 800 stations across the UK to raise awareness of the condition.
He has also raised about £1,600 for the Fire Fighters Charity.
Andrew became fascinated with the work of firefighters after visiting three stations in Hampshire in 2014.
His mother, Kirstine, said: "We set a target of visiting 250 a year but Andrew has already visited more than 800 over the past 18 months so we think we will have another three to four years of visits.
"It all depends on Andrew, if he decides he would like to stop then we'll stop.
"At the moment though, some evenings, most weekends and all of holidays are spent visiting fire stations, with Paul and me alternating who goes along.
Just two-years-ago, the Portsmouth lad was unable to read or write and had difficulty interacting and communicating with people he did not know.
But after transferring to a different primary school and beginning his fire journey tour, his mum says he has been transformed.
She added: "The fire service has been absolutely brilliant in the work they have done to support Andrew and the way they've helped bring him out of his shell has just been fantastic.
During his tour, Andrew visited Inverurie, Kintore, Inverness and Aberdeen Airport fire stations.
And in Shetland he spent eight days visiting 13 island facilities, with an additional visit to the station at Fair Isle.
Andy Buchan, station manager for Aberdeen City, praised Andrew's fundraising efforts.
He said: "His challenge highlights the diversity of work which we carry out as a service and that, along with his fundraising activity is appreciated by all of us.
"I think he is also a very positive role model for other young people with autism by showing what can be achieved and I look forward to hearing how he gets on with the remainder of his challenge."