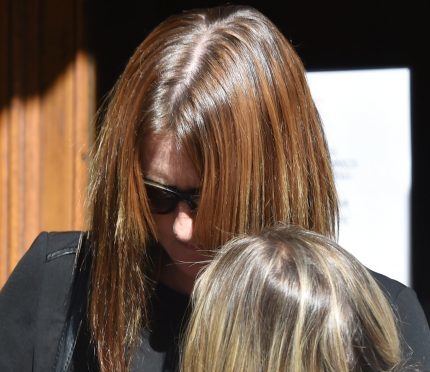 A boozed-up north-east mum has been banned from the roads after she decided to tried to flee an admirer's unwanted advances.
Victoria Lawrie had been out in Aberdeen drinking with friends on August 10 when a man in the group she was in started to flirt with her.
And in order to avoid sharing a taxi home, the 38-year-old decided to take her car, despite being more than four times the drink-drive limit.
Yesterday Lawrie appeared at the city's sheriff court and admitted getting behind the wheel with 93 microgrammes of alcohol in 100 millilitres of breath. The legal limit is 22mcg.
The court heard police were made aware of Lawrie's driving after she crashed into another vehicle in slow moving traffic on Rosemount Place.
Fiscal depute Karen Dow said that after stopping to exchange her details with the owner of the other car, Lawrie got back into her black Vauxhall Meriva Life and drove off again.
Ms Dow said the woman involved in the crash had suspected Lawrie had been drinking so phoned the police who later caught her driving her bashed up car on Westburn Drive.
Representing the first offender, solicitor Christopher Maitland said his client had recently returned from living in Spain after her partner ended their seven-year relationship.
He said the mum-of-two had been out drinking in the city centre when her friend made an "unwelcome advance" towards her.
He said: "She did not wish to share a taxi home so decided to drive home. She appears to genuinely regret her decision."
Mr Maitland said that Lawrie used to have a well paying job in the oil and gas industry before she moved abroad, however since she returned had been unable to find any work.
He said, as a result she would struggle to pay any fine that may be handed to her.
However Sheriff Alison Stirling said: "Where did the money come from so that she could go out drinking so much alcohol she ended up more than four times the legal limit?"
As a result she fined Lawrie, of Bannerman Place, Aberdeen, £800 and disqualified her from driving for two years.