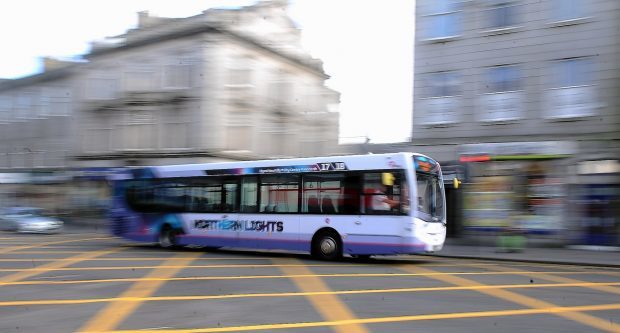 A council-subsidised bus service to an Aberdeen suburb is proving a success with more than 120 passengers a week getting onboard.
Craigiebuckler was left disconnected from the city after First Bus axed many services last year.
In May, the council agreed to spend £45,000 on a bus service three times a day between Peterculter and ASDA Garthdee, via the west end area of the city.
A further £35,000 was committed to providing an evening bus service between Craigiebuckler/Airyhall and the city centre, running from Monday to Sunday.
The council-backed routes were introduced, following a campaign launched after operator First announced the withdrawal of the Number 5 and a re-routing of the Number 15 service in the Craigiebuckler and Airyhall areas of the city.
Hundreds of people attended a public meeting last October to express concern.
But the company's commercial manager Daniel Laird told a meeting of Craigiebuckler and Seafield community council the route was now attracting around 120 passengers a week.
The transport firm sparked anger on Tuesday when it announced it was scrapping all its services to the Kingswells community by the end of the year – a decision which led to local councillor, Len Ironside, claiming they had "no social conscience".
William Sell, the vice chairman of Craigiebuckler and Seafield community council, said he hoped the firm would continue to serve the needs of outlying communities – and that the council should step in if it was necessary.
He added: "I think that public transport is ultimately the responsibility of government and the council have a commitment to reducing the carbon footprint of the city and one of the best ways to do that is through encouraging bus use.
"It is very important for the elderly. In Craigiebuckler, we have a relatively high average age and many over-60s use the day service and leave their cars at home.
"We certainly welcome the stats and hope that the service continues to be popular."
Ward councillor Martin Greig said: "This service is a vital link for the community and it is important that it continues into the future. "
A First Aberdeen spokesman responded: "First Aberdeen is pleased to note the positive reception to the service from the local community.
"It is operating well and meeting early expectations in terms of patronage. We will keep a close eye on the service in collaboration with the council."