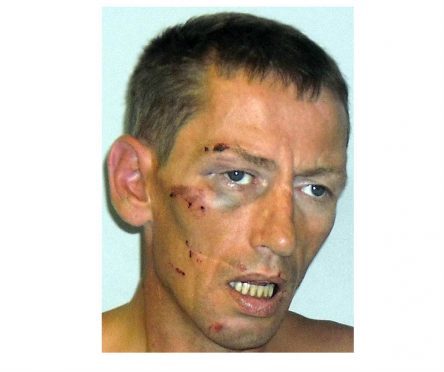 A man who stabbed a notorious killer during an attack in which he also wounded the former convict's wife and daughter has been jailed for 10 years.
Matthew Boyle, 42, knifed John Gallagher, 64, his wife Sylvia, 55, and their daughter Charlie, 30, during the attack outside the Broadsword Bar in Aberdeen on August 30 2015.
The High Court in Aberdeen heard how the couple had travelled from their home in the Highlands to visit their daughter.
Gallagher had made his life in the region after being released from a 20 year sentence which was imposed in 1979 for murdering a Glasgow butcher during a bungled burglary.
The court heard how on the night the crimes were committed, Mrs Gallagher had arranged to meet friends at a reunion night held at the city pub.
They were assaulted by Boyle in the car park as they were making their way home from the charity fundraiser in the early hours of the morning.
Boyle, who was found guilty aged 16 at the High Court for a similar assault, was convicted following a trial in Aberdeen.
Jurors had rejected a claim that he had been acting in self defence and sentence was deferred for the court to obtain reports on his character. They returned guilty verdicts on attempted murder charges.
Today at the High Court in Edinburgh, judge Lord Burns told Boyle that he had no other option but to impose a lengthy custodial sentence on him.
Passing sentence, Lord Burns also ordered Boyle to be supervised by the authorities following his release from custody for four years.
Lord Burns added: "I accept that you did not go out on that evening looking for trouble.
"However, you found a weapon and you inflicted terrible injuries upon your victims.
"Given the circumstances of this offence, I must impose an extended sentence."
During proceedings at the court, a man called Kevin Deans initially faced the same charges as Boyle. However, he was cleared of the allegations halfway through the trial.
Deans was convicted of behaving in a threatening or abusive manner.
The Crown decided not to move for sentence and he was freed.
The court heard how Gallagher was on the receiving end when he went to pick up wife Sylvia, 55, and daughter Charlie, 30, from the pub, which was hosting a cancer charity event.
After arriving, he challenged Kevin Deans for making "foul-mouthed and filthy" jibes at Charlie. Deans' friend Matthew Boyle ended up repeatedly stabbing Gallagher, Sylvia and Charlie, leaving them with life-threatening injuries.
The fracas broke out outside the Broadsword Bar in Aberdeen's Tillydrone area.
Gallagher, described as a scrap metal recycling operations manager, said he told the pair to calm down and go home after Deans' crude comments.
The ex-con claimed Deans then pounced on him and pulled him to the ground. Gallagher, who fought back, said Boyle joined in to help his friend until another man broke up the fight.
Only minutes later, Gallagher told a court, he saw the men coming back.
He said: "I dusted myself down and went to get my wife and daughter and someone shouted, 'They've got knives.'
"Then I was stabbed in the side. I heard my daughter screaming, 'Mum's been stabbed.'
"I went to the car park where the voices were coming from and my wife was lying unconscious and I was leaning over her.
"I then noticed a pool of blood on my daughter. I told her to just sit down and talk to mum as I didn't know if she had realised she had been stabbed."
Gallagher turned to look straight at Boyle in the dock at the High Court in Aberdeen and branded him a coward.
All three members of the family said they had been scarred for life. Gallagher was left with a punctured lung and can no longer shut his left eye after the side of his face was sliced open.
Following the hearing, Sylvia said: "For the first few months our health was really bad.
"I could hardly breathe – I'm still on inhalers. I still can't do too much because I get out of breath. I've to go back to the hospital for an X-ray and scan."
In 1979, Gallagher and David Cochrane were jailed for life after beating 64-year-old butcher Thomas Woods to death with iron bars for the sake of less than £100.
They also tried to kill Brian Coppins, an off-duty policeman pal of Thomas, in the attack in Gallowgate, Glasgow.
Gallagher was once held in Barlinnie's notorious special unit, and in 1984 led a rooftop protest at Peterhead over conditions.
In January 1988, he went on hunger strike with armed robber Sammy "The Bear" Ralston in the cages at Porterfield Prison in Inverness.
On Friday, defence advocate David Moggach told the court that his client still maintained he was acting in self defence.
He added: "It is Mr Boyle's position that he was attacked."
As he was being led to the cells in handcuffs, Boyle swore in court.
He shouted: "I'm not a f*****g threat to anyone. I was f*****g defending myself for f**k's sakes."