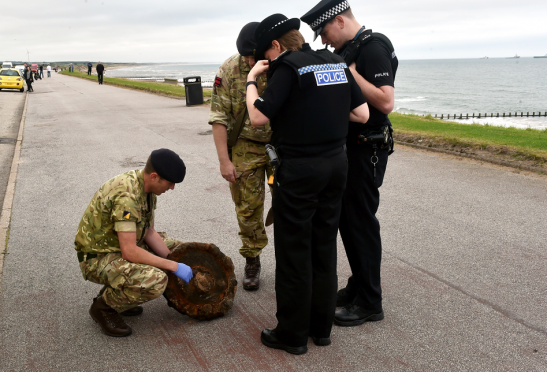 The bomb squad was called to Aberdeen yesterday after a potentially explosive device was spotted on the beach.
Police officers received a call from a concerned member of the public just before 11am after the round, rusted object was spotted on the sand, opposite the golf course.
Officers immediately cordoned off the area to prevent any potential accidents, and contacted the army's Royal Logistic Corps bomb disposal unit in Edinburgh.
The explosives team arrived at the scene just before 3pm, and officers cleared the beach area before two army personnel made their way down to inspect the object.
But although the squad had transported their hefty bomb disposal robot all the way up to the north-east, the only technology required to remove the device safely was a shovel.
That's after it was quickly established that whatever the sea-battered object was, it certainly wasn't dangerous.
Officers assisted the bomb team, the Edinburgh Troupe of the British Army's 11 Explosive Ordnance Disposal regiment, while they conveyed the object into the back of their van, and the beach was re-opened just after 3.15pm.
A police spokeswoman said afterwards: "At around 10.45am today, a member of the public called police in Aberdeen to advise they had come across what they thought was a suspected explosive device on the beach.
"Police put a cordon in place to ensure public safety.
"Officers from explosive ordinance disposal attended this afternoon to assess the device, but deemed the item as nonexplosive and not a risk to the public.
"Members of the public are thanked for their patience whilst the cordon was in place."
While the experts dealt with the incident, a small crowd of onlookers gathered to watch the professionals in action.
One passer-by said: "The police were telling people to stay away from the area, because it was all taped up.
"I've never seen anything like this before, but It's better to be safe than sorry."
The bomb squad is routinely summoned to the north-east of Scotland to deal with potentially explosive devices, which are washed up on the region's beaches, including torpedoes and anti-tank mines.
It has been sent to more than 300 incidents across the north and north-east since 2011, with more than 50 of those incidents in Aberdeen.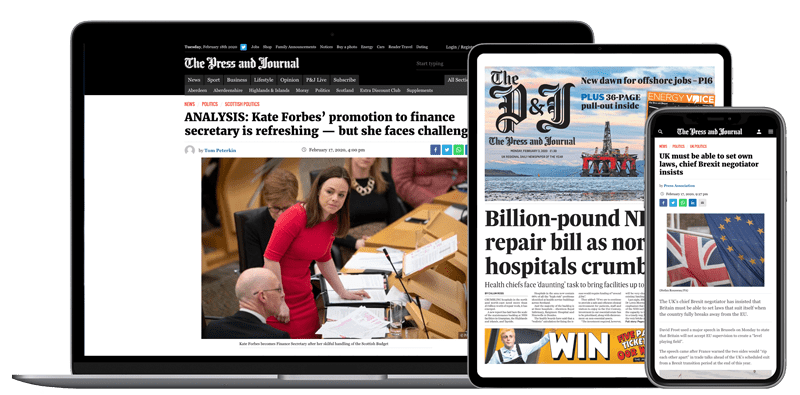 Help support quality local journalism … become a digital subscriber to The Press and Journal
For as little as £5.99 a month you can access all of our content, including Premium articles.
Subscribe