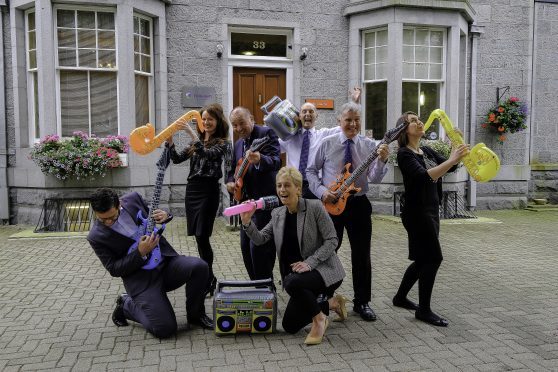 Two north-east legal firms will go head-to-head in a musical contest, all in the name of good causes.
Stronachs and FG Burnett will face off in a Battle of the Bands in aid of charity at Aberdeen's Babylon on October 5.
The two firms have enjoyed a friendly competition on Albyn Place for more than 20 years, and have now both formed groups to take to the stage for the fundraiser.
Stronachs will be represented by Bobby and the Bobcats, headed by firm partners Bobby McDonald on guitar, Hamish Lean on drums and Liz Stewart on vocals.
Solicitors Laura Bisset and Jennifer Love will play the bass guitar and keyboard respectively.
FG Burnett's band, named Where's Watty? is made up of Stuart Fyvie on guitar and vocals, Jonathan Nesbitt also on guitar and Graeme Watt on drums.
Both are being tasked with performing a song in a number of genres from pop to rock, country and western, Scottish, blues and original or mash-up.
The audience on the evening will decide on the winners of each round.
Mr McDonald, a solicitor advocate, said: "A group of us played at the Stronachs Tea in the Park event earlier this year and it seemed to go down well so I think we'll manage to do a good set at Babylon in a few weeks time, however the real judges will be the audience on the night."
FG Burnett director, Jonathan Nesbitt – who came up with the Battle of the Bands idea, said: "It was FG Burnett's turn to throw down the gauntlet for this year's challenge and in a moment of madness we came up with this idea.
"We've been delighted with the response so far and are sure the evening will be a great success."
The event will begin at 6pm. For tickets, e-mail natalie.stevenson@stronachs.co.uk
Individual tickets are priced at £10, or tickets for group bookings of five people at £45, and food is included.