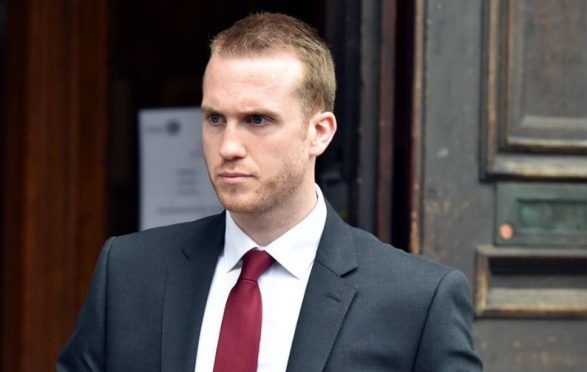 A police officer who drove through a red light, ploughed into a car and injured another motorist has been allowed to keep his licence.
Constable Allan Paxton had admitted driving dangerously through a junction and colliding with Gary Grant's vehicle in Aberdeen city centre.
The 31-year-old had four penalty points added to his licence when he appeared at Aberdeen Sheriff Court yesterday.
But a sheriff first had to decide whether there were "special reasons" for sparing him a ban.
Paxton was on routine patrol at the Castlegate side of Union Street along with Constable Aaron Healy around 2am on October 24 last year when they were called to a fight outside a McDonald's restaurant.
Paxton, who has been on the force for seven years, accelerated down the street towards the incident.
As he approached the Market Street junction, he saw the lights had changed to red – but continued through them at speed and crashed into Mr Grant who was turning on to the road.
Paxton told the court yesterday he had received a brief message about an incident outside the fast food restaurant.
The court heard that as he and his colleague went along the street, they could see another police car had been abandoned in the middle of the road.
Paxton added: "That created enough of a serious incident for me that I had to get my lights on and get there as soon as possible."
He said he made a "split-second decision" and turned on the vehicle's blue lights, but decided against using the siren because it was late and there were few cars on the road.
Paxton's agent, solicitor Paul Barnett, said his decision to ignore the traffic signal was "directly connected" to a potential emergency situation.
Mr Barnett added: "He was put in a difficult position and had to make a quick decision.
Mr Barnett said Paxton had no previous driving offences and had an "exemplary" disciplinary record in his time as a police officer.
Sheriff Christine McCrossan allowed him to keep his licence.
She said: "I take into account that traffic was very light, it happened very quickly and you were close to the junction.
"I do not consider that it would be appropriate to impose a financial penalty because you were carrying out your duty."
Last night, police said an internal inquiry on the incident would now take place.
A spokeswoman said: "We can confirm that an officer appeared in Aberdeen Sheriff Court today in relation to road traffic offences following a collision that occurred on October 24, 2015 while the officer was on duty.
"A report on the full circumstances will now be prepared for the consideration of the designated deputy chief constable."