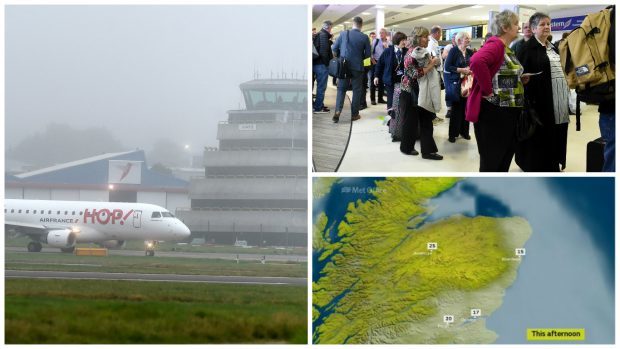 Travel chaos is continuing at Aberdeen Airport as foggy conditions cause a number of flights to be cancelled and delayed.
Hundreds of passengers were left stranded last night after the airport had to close their only runway due to damage on the tarmac.
It later opened a shorter section of the runway to allow some flights to take off and land.
It has said the issue is still causing some problems today but weather conditions appear to also be causing delays.
A spokesman for the airport said: "The weather conditions are significantly improving and flights are beginning to arrive at the airport. Due to the earlier disruption, however, some flights are still experiencing delays. Please check the status of your flight with the airline."
The Met Office has said there is nearly 10 degree difference for parts of Scotland today with fog suppressing temperatures on the eastern coast.
Nearly 10 °C difference for parts of #Scotland today with fog suppressing temperatures on the eastern coast pic.twitter.com/4EzeWGQj90

— Met Office (@metoffice) 15 September 2016
Here is a full list of flights cancelled and delayed:
CANCELLED ARRIVALS
2.10pm Birmingham
4.20pm Paris
5.10pm Norwich
5.10pm East Midlands
CANCELLED DEPARTURES
2pm to Norwich
5pm to Paris
DELAYED ARRIVALS
11.20 from London City, expected at 12.29pm
11.30am from Kirkwall, expected at 3.05pm
11.50pm from Dublin, expected at 12.38pm
12.40pm from Sumburgh, expected at 4.45pm.
12.45 from Amsterdam, expected at 12.47pm
1.30pm from Esbjerg, expected at 1.40pm
2.10pm from Manchester, expected at 3.15pm
3.25pm from Humberside, expected at 4.30pm
6.50pm from Humberside, expected at 7.45pm
8.20pm from London Luton, expected at 8.42pm
DELAYED DEPARTURES
12.15pm to Dublin, now 1.55pm
12.30pm to Humberside, now 1.45pm
2.45pm to Birmingham, now 3.50pm.
4pm to Humberside, now 4.55pm
7.25pm to Humberside, now 8.10pm
8.45pm to London Luton, now 9.07pm