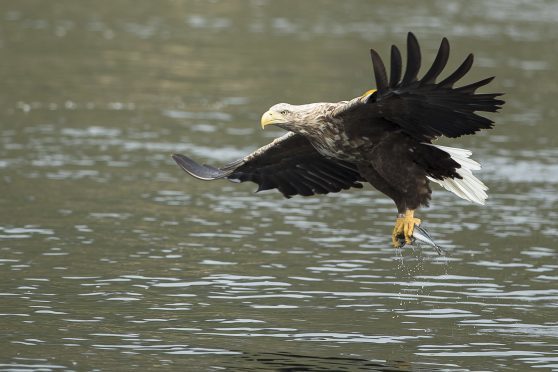 This is the moment a north-east photographer captured one of Europe's largest birds of prey, snatching a mackerel from the sea off the coast of Skye.
The majestic white-tailed eagle, also known as the sea eagle, was once widespread across Scotland.
But following centuries of hunting and persecution it was declared extinct in the UK during the early 20th century.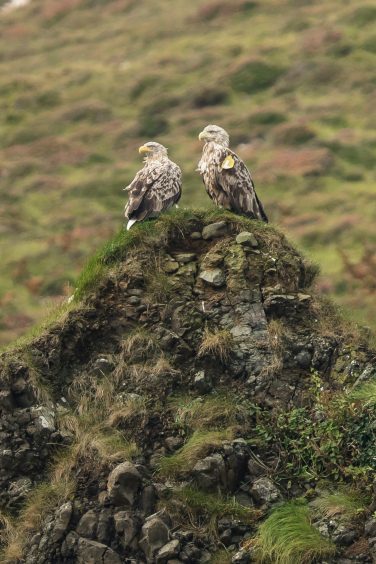 Now, thanks to dedicated reintroduction programmes, the beautiful creatures are slowly regaining territory in Scotland, particularly around the West Coast, Skye and the Western Isles.
The Royal Society for the Protection of Birds claim that there are only around 44 breeding pairs in the UK.
And last week Aberdeen wildlife photographer Norman Watson was lucky enough to spot this breathtaking couple while on a boat trip from Portree.
As his boat passed under the cliff where the birds were perched, Mr Watson quickly got out his camera and managed to take these incredible snaps of the female swooping down to enjoy a fish supper.
Mr Watson said: "I went out on a boat trip from Portree around the Sound of Raasay, and we saw a pair of eagles.
"They were sat on this rock formation on a cliff like the king and queen of Skye, they totally dominate the waterways in the area, they've even been known to kill herons – once they take off, everything disappears.
"They're known as the flying barn door by people in the know, because once they're in flight their wing span is just so huge, up to eight feet in length."
Although they are known as sea eagles, the raptors can also be found scavenging on land, and are known to use their enormous size to intimidate mammals, sea birds and other birds of prey to steal their food.
Mr Watson said this particular bird was more in the mood for a spot of fishing: "The eagle took off from the cliff, and gracefully swooped down, gaining speed as she dropped lower and lower – it's talons alone are about 3 inches long.
"It skipped the surface of the water, and then finished off the mackerel back on the cliff.
"It was amazing to see one of Europe's largest bird of prey at such close quarters."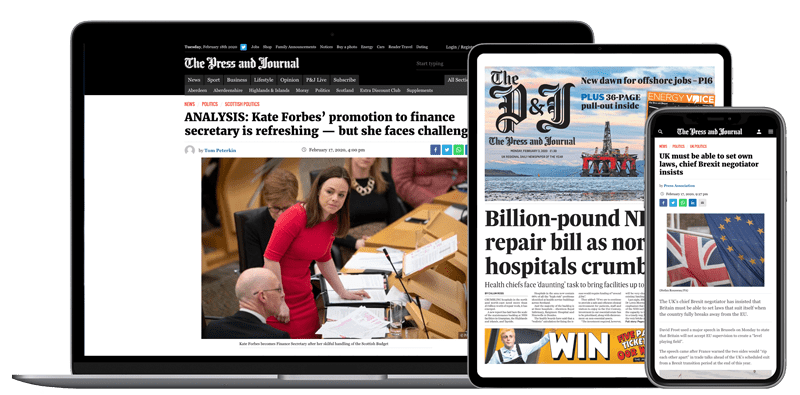 Help support quality local journalism … become a digital subscriber to The Press and Journal
For as little as £5.99 a month you can access all of our content, including Premium articles.
Subscribe