This is the moment a young Dons fan was struck on the head after hooligans ripped up seats at Pittodrie and hurled them at home supporters.
The shocking footage, which was shared but Dons fans on social media, appears to show plastic seating thrown over the divider, with one fan shielding his head after being struck.
Aberdeen FC today confirmed club officials were to go through CCTV with police in a bid to find out the extent of the damage.
An Aberdeen FC spokesman said the club were aware of the video footage.
He said: "An inspection of the stadium was to start today. We will be following this up.
"Our operations staff have seen the video."
He added: "It's unfortunately a fairly normal occurrence."
A Police Scotland spokeswoman said: "We are aware of the footage.
"We are appealing for anyone who was in the stadium at the time or has any information about the incident in question to contact 101 or Crimestoppers on 0800 555111."
The footage comes after further unrest around the fixture saw three fans arrested and the Rangers team bus carved with graffiti referencing the 1971 Ibrox disaster.
Rangers FC later issued a statement saying they were left "disgusted and disappointed" following the incident in the early hours of the morning at Ardoe House Hotel on South Deeside Road.
When the bus arrived at Pittodrie, black tape had been put over the vandalism.
A police spokesman said last night: "We have been made aware of reports of vandalism in the Deeside area of Aberdeenshire in the early hours of this morning.
"Inquiries into this matter are ongoing and anyone with information should contact police on 101 or Crimestoppers on 0800 55 111 if you would prefer to remain anonymous."
A spokesman for Rangers FC said: "We are disgusted and disappointed by this act of vandalism.
"In particular, the reference to the Ibrox disaster in which 66 people lost their lives was particularly vile.
"This sort of behaviour has no place in civilised society.
"The incident was immediately reported to Police Scotland and we will assist them with their inquiries."
An Aberdeen FC spokesman said: "We are particularly disappointed with this act of vandalism and do not condone it."
Earlier this week police issued warnings to fans attending the game and watching it from premises across the city that any form of anti-social behaviour would not be tolerated.
Extra officers – including those on horseback – were in force across Aberdeen before, during and after the game to crack down on criminality.
Over the course of the match itself, police arrested at least three people.
A police spokeswoman said last night: "Officers continue to undertake a policing operation across the north-east following today's match at Pittodrie, working alongside partners to ensure public safety is a priority as is always the case with such high profile fixtures."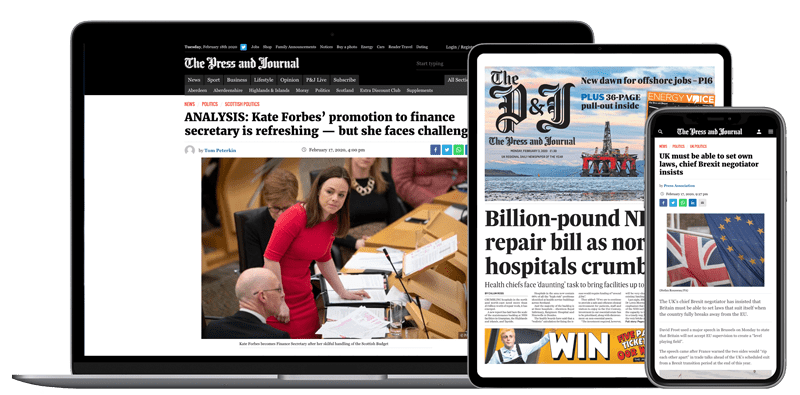 Help support quality local journalism … become a digital subscriber to The Press and Journal
For as little as £5.99 a month you can access all of our content, including Premium articles.
Subscribe