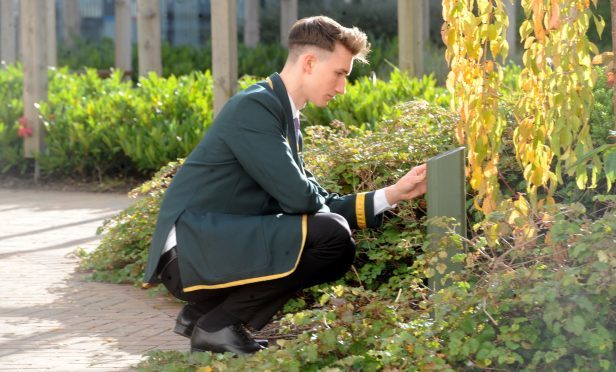 Cults Academy head boy Luke Morrice said pupils at the school had coped well in the aftermath of Bailey Gywnne's death.
He said: "We planted a tree in the courtyard and had a memorial service inside the school with Bailey's year group and his family members came. Some teachers stood up and spoke about Bailey and his friends talked about their memories of him as well.
"People do go outside and look at the tree. I like the plaque with Bailey's name on it. It says 'Our pupil, our friend' and has a picture of his pug called Teddy. It is really nice."
Today a review into the incident was published and found Bailey's death was "potentially predictable and avoidable" if only others had reported that his killer regularly carried weapons at school.
It said the fight that ended in his death could not have been "predicted or averted" on the day and the incident was "well managed by all agencies".
But it called on the Scottish government to look at strengthening the legal powers to search pupils and crack down on online sales of weapons.
The multi-agency probe was set up after the 16-year-old was stabbed at Cults Academy in Aberdeen on October 28 last year.
Mr Morrice said following the incident many pupils had attended counselling sessions which helped them express their emotions at the school in the days after Bailey died.
The 17-year-old said: "When we first got back the school was unusually quiet. But I think the school is recovering, I think that is as a result of how the school and senior management were with us, they were very caring and accommodating with everybody.
"The workload continues, deadlines and exams have to be met, and in that way, since we were so busy, it almost was a distraction from what had happened.
"But of course, Bailey will always be remembered in our school's history.
"I didn't know him very well, he was in my English class a couple of years ago. He was a quiet and humble guy with a dry sense of humour. He was very good at English.
"He was a good guy, I liked him."
Head teacher Anna Muirhead said: "The pupils have been remarkably resilient. The day itself was unbelievably traumatic and appalling for everybody.
"We closed the school and worked very closely with the authority and the police.
"We opened the school with a series of special assemblies which were specific to each age and that was quite a relief to get the school open and the youngsters in because we were mindful that their education had to continue no matter what we were dealing with.
"It is still very raw for everybody and we have met fairly frequently throughout the year with Bailey's particular group of friends because for young people who perhaps sat beside him in class, or his friends that he sat with on the school bus every morning and every night, it was very difficult.
"But they have responded really well. They have continued with their studies and done well in their exams and they have helped us in a number of ways, they helped us plan a memorial that we held in December and we were honoured that all of Bailey's family were able to attend.
"It was a lovely service and at the end of which we went out and planted our little tree.
"After the exams and after the trial they have worked with us to help design a more permanent memorial. We're working with a local artist to create a stained glass panel which will hang in the school."
Ms Muirhead said Moray-based artist, Shona McInnes, met with Bailey's friends and his mother Kate Gwynne, to get ideas for the design of the stained glass memorial.
Blue glass will be used to represent the sea because the teenager had hoped to join the Royal Marines when he left school.
Two of his beloved dogs will also be featured as well as bagels and donuts because his friends always joked that he could eat as much food as he liked due to training so hard at the gym.
She said: "Bailey's family have been amazing. They came to our service and they have helped plan the window. We are in close contact with Bailey's family. I have to say it is their tragedy, we don't want to take it on board and make it our tragedy.
"It was a horrendous thing for us to deal with. It's a thing that will be part of the school's legacy now and the school history that we had a pupil killed in the building, we are very much aware of that.
"When Bailey came to the school at first he joined us late on in first year. He was a very quiet boy, he was very shy. Sometimes we would keep an eye on him because we thought he was a bit of a loner to begin with but he very gradually got fully integrated into a group of boys.
"He went away on a history trip to the battle fields and he grew to be a character. He had a very wry sense of humour and was witty and good fun.
"He couldn't do maths but he was excellent at Art, History and English – they were his favourite subjects, he did very well in his Nationals and those teachers had been very hopeful he would get very good Highers in those subjects too."
Ms Muirhead said she did not believe that the report would find any failings committed by the school.
She said: "I think something as traumatic as this I don't think you can be trained for, and I don't think you can be fully prepared for. It's a very rare occurrence thank goodness.
"We have met with Andrew Lowe on many occasions. He's come into the school and met myself and several pupils.
"I am sure he will have recommendations, he will have recommendations for maybe this particular school but I think for all schools, schools and society in general, maybe with regards to weapons.
"I'm sure that would be the case, I would be surprised if it wasn't. I don't think there's going to be any one particular event he's going to say we could have handled differently or should have done differently.
"I think schools are generally safe places in the same way streets can be safe places.
"This was a very sudden, one off incident. It was over in a flash, a couple of minutes of madness. There are security measures in place in that outwith the bell times, the doors are shut and the building is secure.
"We try to make our young children know the dangers of carrying things, the dangers of bringing anything into school which would get you into trouble if you were caught carrying them in the street."