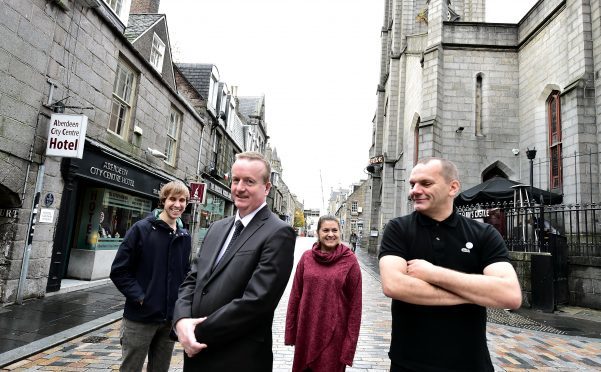 Aberdeen's famous granite environs will be transformed into a sea of colour with the launch of a new street art festival.
Organisers behind the world-renowned Nuart Festival, which takes place in the twinned city of Stavanger in Norway, have decided to create a similar event in the north-east.
The festival was formally launched yesterday during an event at Cafe Drummonds in Belmont Street.
Nuart directors Martyn Reed and James Finucane, in association with Aberdeen Inspired, announced the event will take place next spring.
Adrian Watson, Aberdeen Inspired's chief executive, said: "We're delighted to bring the festival to Aberdeen next year as part of our ongoing work to promote and support the city centre and we look forward to working with Martyn and James to create an attractive event that will capture the attention of north-east residents.
"Captivating artworks on walls around the city centre is something I am sure will spark the imagination and increase footfall in the city centre.
"That will benefit businesses in the area and the city as a whole."
The organisation was spurred on by the success of smaller, similar initiatives in McCombie's Court, Adelphi Lane and the staircase between the train station and Trinity Shopping Centre.
Most recently, the city hosted the successful Summer of Art festival, which included the Painted Doors project, where local artists paraded their gifts on doorways across the city.
Nuart was first held in 2001 and has subsequently become regarded as one of the world leaders in street art.
Mr Reed, who also curates the festival, said: "We are really pleased to bring Nuart to Aberdeen next spring. It will be the first time it has been held in the UK and I think Aberdeen and Stavanger have a lot of similarities.
"The festival has gone from strength to strength over the years in Stavanger and we are keen to bring similar success to our twin city.
"Street art has grown to be a hugely popular and influential artistic medium and we hope to attract some of the world's leading artists in the genre to showcase their talents alongside local artists in the Granite City."